Tags: Party supplies Bribie Island.
There is a little party shop that some of you may not even know existed, that has its roots firmly embedded into Bribie Island over decades, and carries many surprises… let me tell you more. I have known Lulu for quite some time through The Bribie Islander as a business and Lulu as a past advertiser, also an "Islander Extraordinaire" written by our local retired Journo, Mr. Neil Wilson.
This was back in a past issue, long ago, when we were a newspaper, not a glossy magazine. I love to help local business and enjoy seeing our customers getting results and growing from their advertising. Lulu Drew has been a Bribie local for around 30 years and she is known to be a great contributor and entertainer to the island in many ways and a true local that cares about Bribie, her family, and friends.
There are a lot of people on the island that knows her or has hired a party costume or seen her party shop on the waterfront at Bongaree. Lulu has recently become one of our magazine deliverers to Banksia Beach, Woorim and Bongaree. You may have seen her party bus delivering the latest Bribie Islander magazine to you!? Now, for example, if her shop of wonders and magical stuff was not there, where would you go for your party stuff?
There are many bargain shops around but check this out, she offers many different services that the others don't and you would be off to Brisbane to find a similar outfit, excuse the pun, and a 6 am delivery service too. Picture this… It's the day before your sons or daughter's birthday or Dads or Mums and you wish you had been more organised with plans in place to make their day extra special?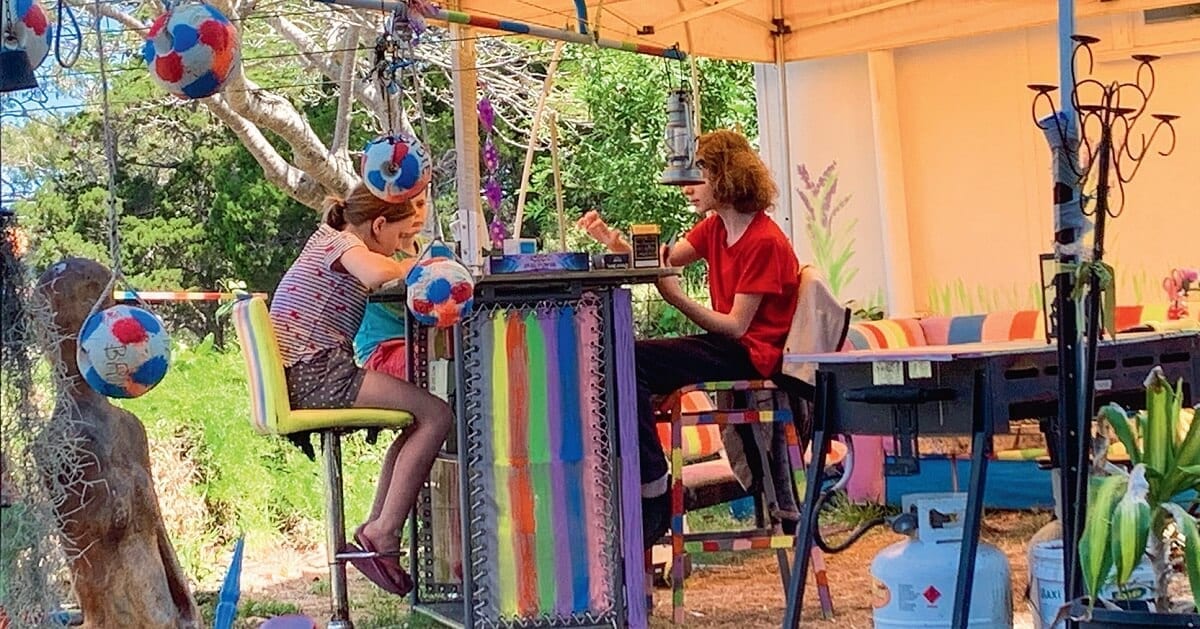 But life is so busy. Knock knock. Lulu is outside your house, it's 6 am in the morning, and she has balloons and birthday gifts to make your family members day super special. But that's not all… Are you looking for a Buzz Lightyear or Superman or woman? Would you like her to turn up as a hippy or a Gorillagram or Bo Peep? All you need to do is remember to call Lulu and ask what is it you require?
Lulu will offer you a unique service with thousands of costumes available for hire as well. Just like the Woodies article in the last issue, looking for logs, they had an enormous response, so, let's get some action to Lulu's Party Shop? Just up from the Museum at Bongaree, let's make sure she is not history, but a special place to visit and support another Bribie local business as Lulu told me that business is really slow.
Pop in and take a look there is a lot of novelties, gifts, treats, costumes, make up etc the list goes on and on. Lulu's party shop also has Lulu's Land out the back which is a magical garden for that extra special day to cater to adults too while the kids run riot and have lots of fun.
Call Lulu to discuss your requirements and let her make your special occasion, one to remember, with a telegram that no other local business offers, this is a one of a kind service! Call Lulu now to say G'Day and have a chat to discuss your party or birthday needs on 0407 148 554.
Support local businesses.
Other Articles
New Family naturopath for Bribie Island