Tags: Bribie Island Community News. Bribie Island Clubs.
THE BONGAREE BOWLS BOARD AGM
The Bongaree Bowls Board AGM was well attended. Chairman Barry France presented member Ester Anderson, who has served the club for 20 years in many capacities including coach and providore, with a life members badge.
She joins the ranks of life members with Honey O'Neill and Arthur Hangan (pictured) Patroness day was held on Friday, March 16th, after a friendly game of triples a delicious afternoon tea of sponge cake with strawberries and cream was enjoyed by all.
Club Patroness Elaine Humphris presented the trophies, which she kindly donated, to the winners and runners-up.
Patroness day 2018(left) and Life members bong bowls(right)
"BRIBIE ROTARY CELEBRATES 30 YEARS"
Featured Image(top): To mark the founding of Bribie Island Rotary by Caboolture Rotary 30 years the current President (Riana Botha- left) organised a Gala Celebration, attended by the World President of Rotary International (Ian Riseley- right), to present the current members and President of Bribie Rotary (Jeff Eustace ) with an International Achievement Award.
THANK YOU BUSY FINGERS!
Thank you, thank you, thank you Busy Fingers. Pumistone Passage Probus were desperate for a new laptop for speakers and presentations. Kathy Vincent last years President appealed to Busy Fingers for help. They very kindly gave a generous donation towards the cost. Here, Kevin Cousins, the new President is receiving the cheque with Avril Cook the treasurer. Busy Fingers do a wonderful job on Bribie helping so many clubs and organisations so Thant you again.
PUMISTONE PASSAGE PROBUS
Its that time of year again when the new President takes over Kathy Vincent had a great year as President there was so much Fun, Friendship and `Fellowship. The Club is a great place to be with activities every month, walks and coffee mornings, dinner out, club meetings and fishing fun every month. Come and join us on the second Tuesday of the month at Bribie RSL for 9.30 we would love to see you. Here Kevin Cousins takes over the Presidency from Kathy with lots of new ideas for even more fun.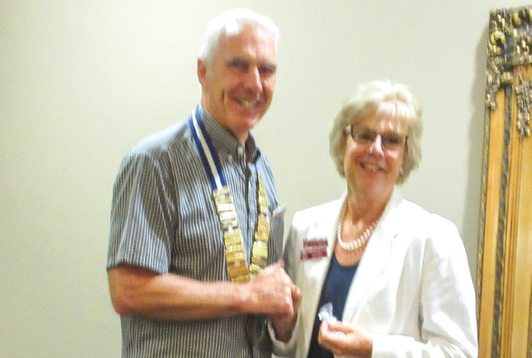 Local Meetings and groups
ALCOHOLICS ANONYMOUS BRIBIE ISLAND RECOVERY GROUP RECOVERY I.D. MEETING Monday – 7.30pm – Church of Christ Hall. Corner of Fifth Ave and Foley St, Bongaree. The meeting room is behind the church.
BOOK STUDY MEETING Thursday – 7.30pm – Church of Christ Hall. Corner of Fifth Ave and Foley St, Bongaree. The meeting room is behind the church.
WOORIM PROMISES MEETING ON THE BEACH Sunday – 7.30pm – Rotary Park, Woorim Beach. Access Area no.3, North St, Woorim. No dogs permitted on the beach, BYO chair. FOR MORE INFO CONTACT – GLENN 0410 435 867
OPEN I.D. MEETING (previously known as the Banksia Beach Friday Night Meeting) Saturday – I.D. – 7.00pm – Bribie Island Baptist Church. 7 to 9 Cotterill ave, Bongaree, Cnr of Cotterill and Bestman FOR MORE INFO CONTACT – JAIME 0438 622 545
Other Articles
https://thebribieislander.com.au/not-profit-training-facility-bribie-island-bribie-u3a/