The Bribie Island and surrounding communities have been reaching out to help those affected by the horrific bushfires and our countries ongoing drought. From young kids doing it on their own, to our local business, everybody is keen to pitch in and help. So, as a community lets rally behind these fundraisers to support the people and animals affected by devastating bushfires and droughts.
ALY, ARTIST GIFT FOR THE ANIMALS
Aly Grahame is one of the loveliest women I have been fortunate to meet since moving to the Island. Aly herself has only been a resident for the past 3 years but in that time has supported the locals by donating her beautiful paintings to be sold or raffled for various fundraisers.
[vc_images_carousel images="8231″ img_size="full" speed="0″ hide_pagination_control="yes" hide_prev_next_buttons="yes"]
Aly has been painting since she was a teenager, self-taught with a passion for creating stunning artworks. Aly is a very busy lady. She paints in her spare time as she also works at Goodwin Family Medical Centre and has also done a few small paintings for the patients there.
Aly has a huge heart and has a love for animals which lead her to personally taking on 2 rescue dogs. As you can imagine, the bushfires have devastated animal lover Aly, so this is why she is donating one of her artworks to be raffled off and all proceeds to go to the National Bushfire Appeal, RSPCA.
The tickets are available at Woorim's Newsagency $2 each, or 3 for $5, or 6 for $10. We would love to see everyone get behind Aly and support her in her fundraising efforts. Good on you Aly!!
Bribie Gleemen & Titanic Musical Company Inc
Founded in 2001 The Bribie Gleemen has become a highly regarded Gentlemen Songsters Choir meeting weekly for rehearsals, singing both past and recent songs across a range of formats. Over the years we have undertaken close to 400 concert performances for various organisations and associations.
As a "not for profit' group we have donated to many charities and annually hold a couple of large public concerts with a major part of the proceeds going to local charities.
Our first annual concert for 2019 was on an Irish theme in April at the Recreation Hall on Bribie Island and was attended by over 150 persons, we collected close to $2,000 for local charities.
Our second annual concert for 2019 at the Recreation Hall in October under our Musical Director Trevor Vincent was a great success and also drew a very healthy audience.
As a result, we were able to give a cheque to Toc H Bribie Island to help them in their quest to bring several young people from the hard-hit rural areas to Bribie for a holiday.
Also, we were part of the Combined Choirs Concert on Sunday 8 December when we joined forces with three other local choirs to provide carols and Christmas songs to a large audience.
That concert was able to contribute $2,700.00 for local respite support services.
Our major work is undertaken across the care, lifestyle and health sectors where we will typically undertake a one hour concert for a client and seek to recover our costs.
The range of clients we have entertained include Sunnymeade Park Managed Estate, The Village Redcliffe, Boulton Clark, Church of Christ, Bribie Bowls Club, Uniting Church, Regis Group, Anglican Church, Golden Age Respite, RSL Care, Seasons Group, St Pauls Lutheran, Embracia, Pacific Harbour G & CC, Rotary and Probus.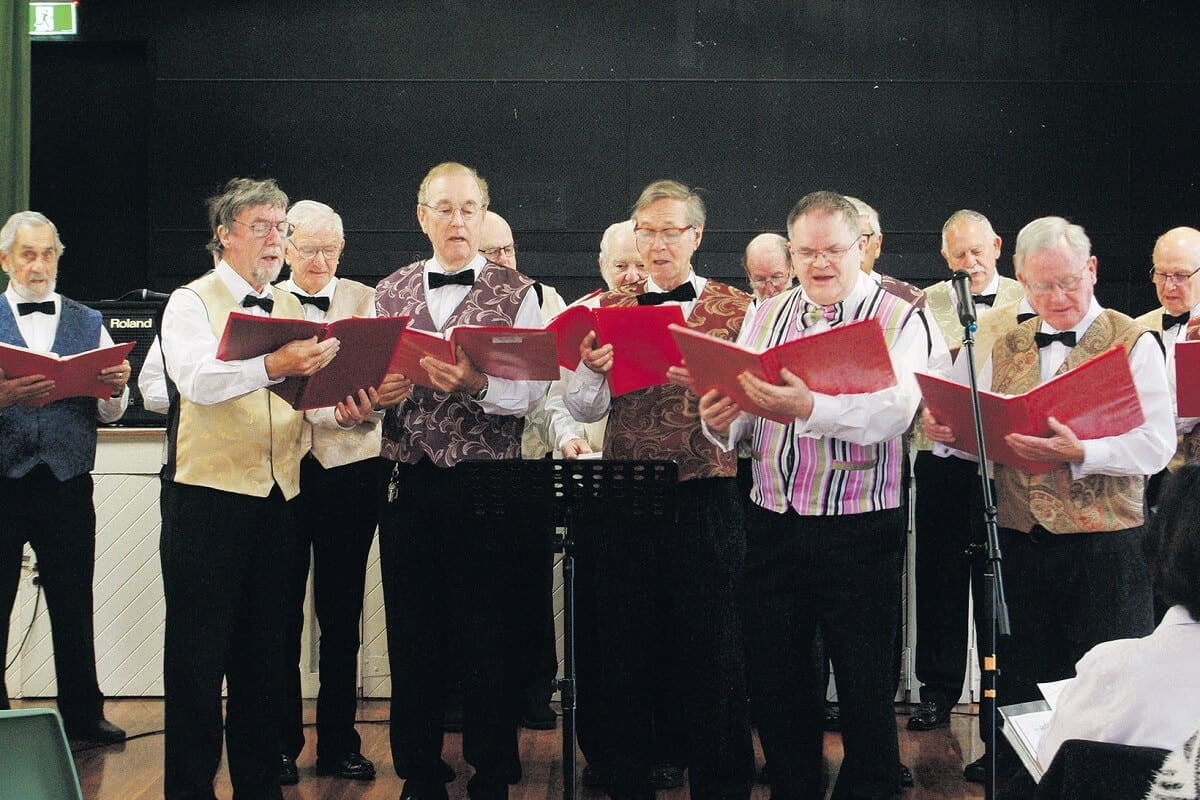 TheMagic Of Makayli
Makayli is a 12 yr. old lovely young lady who is devastated by the fires that have been raging in our country and has decided to try to help out by raising money for those affected.
And this is how it all came about. Makayli has been sewing ever since requiring surgery after a netball injury early last year. Her mum Cherie thought this would be a good distraction for her to relieve the boredom. Makayli started with making scrunchies (hair accessories) and she would post them on her Instagram page as well as selling them to the kids at school.
She then expanded her skills and started making lavender bags, heat packs, crayon booklets, tissue covers and anxiety hearts for kids nervous about starting school or going through a tough time. Makayli was then approached by Blonde & Beyond a local Bribie Island hairdressers to display and sell her scrunchies in their salon.
When the bush fires started she wanted to donate and thought the best way to do that was to have a pop-up stall, selling all her handmade items with 50% being donated. Unfortunately due to the bad weather she only raised $105 for her chosen charity, Wires.
She's also donating 50% of her latest stall which was held at the Bribie Island Cinema for ladies night on Thursday 23rd. She's also going to keep contributing 50% of any sales until the end of February.
Anyone wanting to order can do so through her page; xo designs(https://www.facebook.com/XO-designs-422089895049011/) via Facebook and Instagram. Dont forget to like here page!!! Her family are so proud of efforts and support her fully with her mission.
So let's also get behind this beautiful young lady and help her with her dream of raising as much as she can to help our fire victims get their lives back on track. Every little bit helps!!!
We need to say Thank you to our local Rural FireBrigade, and every other Fire Brigage in our country. One way we can do this is to support our local Fire Brigade which needs funds to alter their station so that we can house a new truck.
Come to our luncheon, and all moneys raised at this function will go to support the Toorbul Station. Bookings will be necessary. (by 12 Feb.) $25 pp. Great lunch, raffles to win. PH: 07 5429 2310, 0427 988 515, 0447 131 234
Abby Museum Fire Relief
Abbey Hall are holding a bushfire relief fundraising dinner on 8th Feb where 100% of profits will be donated to a small town called Genoa, on the NSW/ Victoria border who lost everything.
It will be a wonderful night called 'A Crusader's Journey' and we have a fantastic award-winning chef named Robert Van Buerle to create an incredible menu for the evening. It follows the Crusaders route and is reflected in the dishes.
The menu will be suitable for vegetarians but not vegan. There is also chicken, lamb and beef on the menu. We will be including some drinks in the package – house wine and beer which we have just had donated, and soft drinks. The local businesses have been very supportive with donations to help the event. There will also be a bar with a selection of drinks for sale – no spirits.
The entertainment is provided by the re-enactors who are donating their time and includes Gregorian "monks" chanting, belly dancers, Knights Templar, Saracens and other bits and pieces that are still coming together.
A raffle will be run on the night – again, thanks to donations. $120/pp on Eventbrite. https://www.facebook.com/events/2769085209838547/
BONGAREE PHARMACY
are helping support our injured animals by taking donations of either money or you can buy the medications and bandages (pictured) and they will pass that along to the wildlife carers that are fast running out of supplies. Please give your support to help these guys out.
85 Welsby Parade, BONGAREE, QLD, 4507 Ph: 07 3408 1601
Sunbuster show their support
Sunbuster Caravans aim is to bring a little hope back into the lives of our fellow Australians who have lost so much and been placed in a hopeless situation.
Sunbuster Caravans, cannot begin to imagine what these families are going through physically, emotionally and financially, and hope that their small gesture of placing them in temporary accommodation on their own land, may give them a little hope to start rebuilding their lives WE NEED YOU TO HELP US ASSIST AUSTRALIAN FAMILIES WHO NEED TO START REBUILDING THEIR LIVES.
SUNBUSTER CARAVANS PLAN TO HELP IS SIMPLE! We have several suitable preloved caravans, which are immaculate and ready for supply. (Each Van will be set up to be Self Sufficient, by Sunbuster Caravans, if not already.) We are aware that there are many fundraising activities in place for bushfire relief at this time, and we are hearing a lot about fundraising for the poor animals affected by this disaster, which is heartbreaking, however, let me ask you this question…. WHAT ABOUT THE PEOPLE????
We are also aware that many people are reluctant to give as they do not know what their money is actually funding. Well, now you will, showing your support and giving to the Sunbuster Bushfire Assistance Program you are fully aware of where your hard-earned funds are actually being channelled. Your funds will be providing a temporary home to the families whose lives have been destroyed in the communities around you.
Each Caravan will be clearly identified as being supplied as part of the SUNBUSTER GIVIT Bushfire Assistance Program. Your gift can be made by purchasing online at www.sunbustercaravans.com.au or by phoning and using your Credit card, free call 1800 472 665. Our target is $300,000, to begin with, but it's only a start as that will only house 8–10 distraught families, so we desperately need your help.
Let's show our struggling Aussie families they are loved and appreciated and are not alone. Let's band together and show our true Aussie Spirit, please make your decision to become involved, commit today and let's show everyone WE CARE.
Solace Supports Drought Angels
Drought Angels provides a unique service for which it is has become well known for within the rural sector. Drought Angels is a small charity run by big hearts, who offer a listening ear, a warm hug and personalised support given to each family.
They like to tell our farmers that this is not a handout but a Thank You. "Thank you for all you do to put the food on our tables because without you we would all go hungry".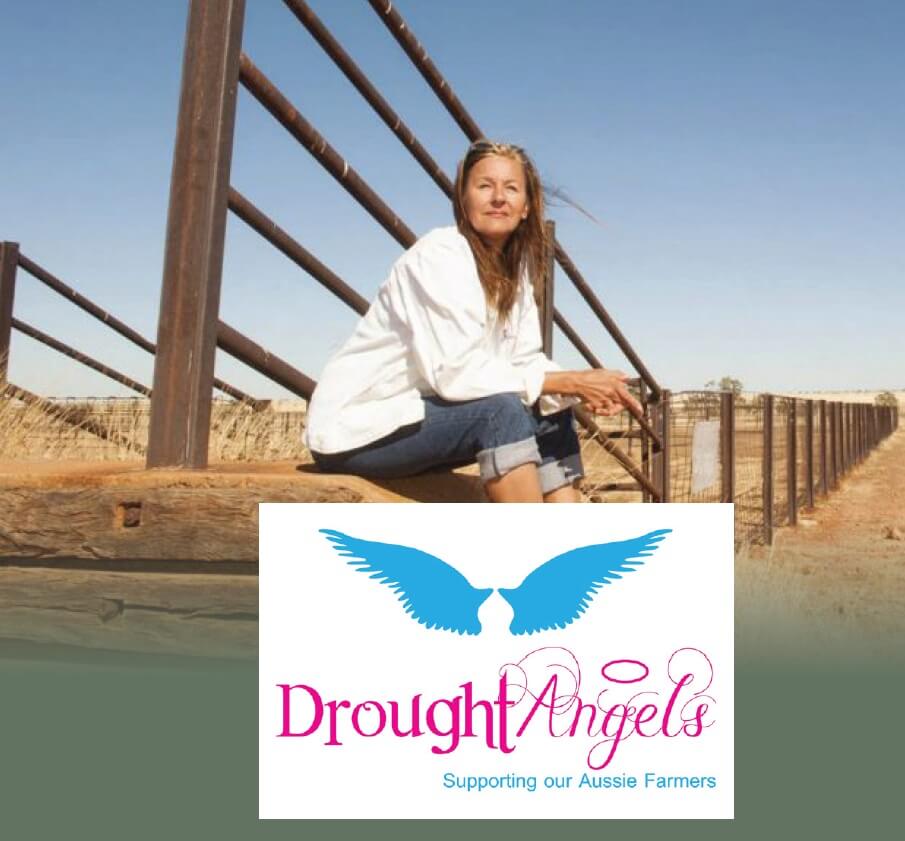 Through direct personal contact with the farmers, Drought Angels have earnt a reputation for providing personalised, heartfelt and discreet assistance. We help those who would not normally reach out but prefer to battle it alone, which can lead to severe depression and in some cases suicide. One-on-one support aides in 'breaking down the barriers' of a proud demographic who quite often have never received a hand up.
They can be the first generation of many who have to contemplated walking off the land and selling bloodlines that have taken years to build up. These are the people of most concern and often forgotten. Drought Angels assist farming families affected by Natural Disasters Australia wide.
Our level of support consists of providing stockfeed, financial support via Prepaid visas and local produce vouchers from within the communities, moral support through personal face to face or phone contact and referrals to other support networks as needed.
Drought Angels pride themselves on their individualized support offered to each and every family. Supporting our Aussies through drought, flood, and fire. You can donate or purchase merchandise by visiting the Drought Angels website at droughtangels.org.au.
Wands
would like to thank you so much for your donations so far, but we still need some help. Please see the following items that we need:
Thank you to everyone that donated or helped to pack the Emergency Kits that were put together on Sunday the 13th of January.
The 80 completed packs have been registered on a national database for the bushfire and flood victims. We have 70 kits that are partially packed and would love any of the following donations to complete them. Collection points are at Bribie Aquatic Centre and Banksia Beach State School.
*toothbrushes
*toothpaste (small tube)
*small wet wipes
*face washer
*lip balm
*roll on deodorant
Your help would be much appreciated. Any questions please contact Selina on 0425 634 234.