Tags: Interesting Books to read. History. Queensland
NOW THAT'S A REAL CAREER CHANGE
When Ian Lamborn stopped for a drink at the Eimeo Hotel for a couple of drinks on a July day in 1974, he was completely unaware that he was about to enter into a conversation that would result in a complete and very unusual career change that would intermittently occupy the next part of his life and remain fondly in his memory forever. Ian was born in Melbourne and grew up in the North Queensland town of Ingham where his parents were cane farmers and, as what would seem to be an obvious progression in that area, went to work in a sugar mill after his school years had ended.
This, however, was only a stepping stone for Ian and before long he had begun work in a bank. This job took Ian to a number of places throughout the state and, while working in Mackay, he left the bank to work in the construction industry. 'I was in the Eimeo pub outside Mackay and having a chat with a bloke when my interest was thoroughly ignited,' Ian told me.
'He mentioned that he was a lighthouse keeper and I immediately wanted to give it a go,' he said. After making application for a position in what he now regarded as his dream job, Ian found himself, along with his swag and dog, on a boat heading to North Reef Atoll, an island on the very edge of the Great Barrier Reef which featured a lighthouse that was an essential navigation aid for ships heading to Gladstone.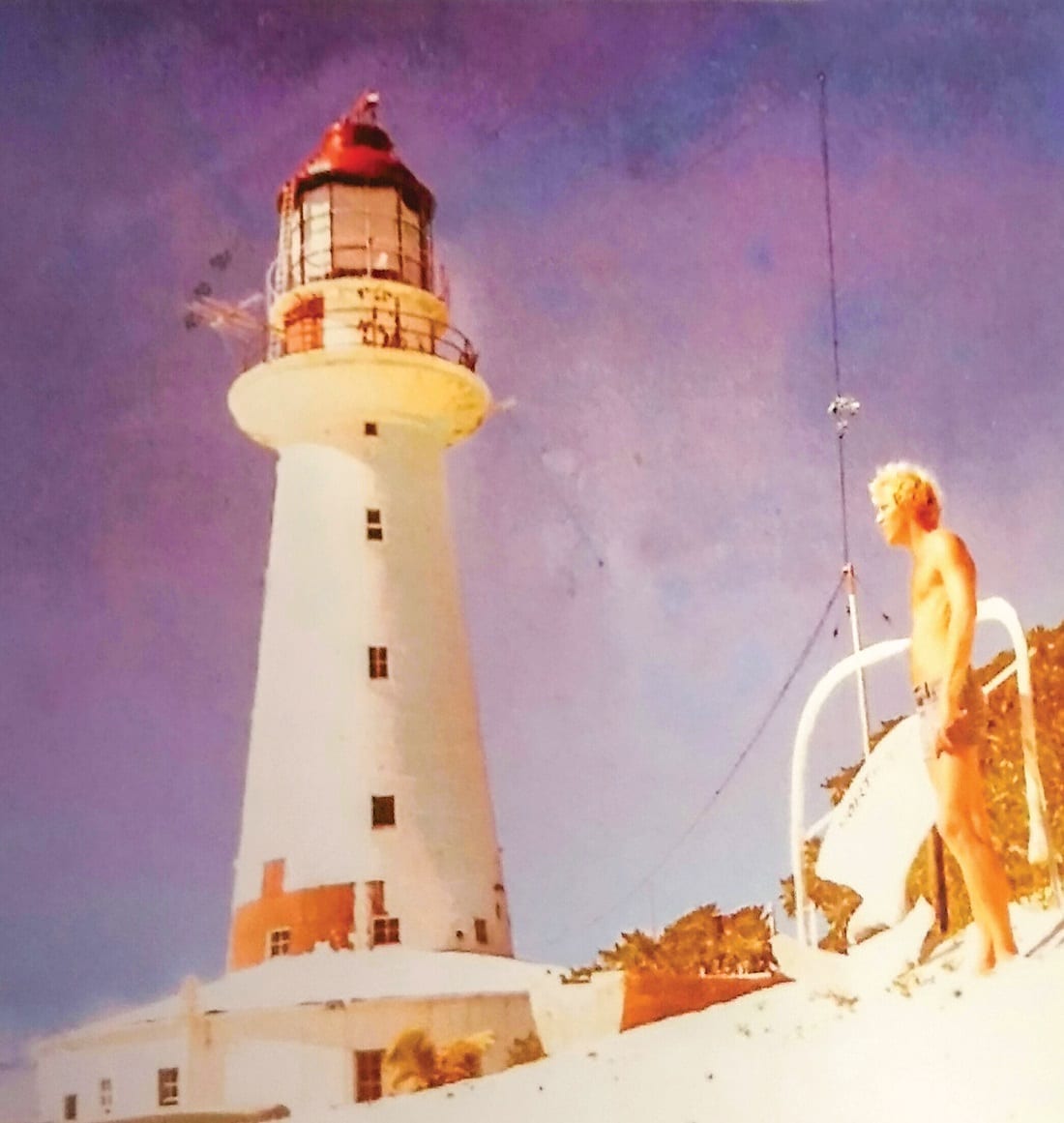 Ian outside the North Reef Atoll Lighthouse where he was stationed for ten months
Ian told me that the journey to the island lasted from first light until late in the afternoon and he said that he saw the lighthouse before the island actually came into view. 'North Reef was only 125 metres long and sixty-five metres in width,' said Ian. 'I know that because I measured it many times and it only took about two minutes to jog around it,' he added.
The lighthouse that was to be Ian's home for the next ten months was what was known as a single man lighthouse, (meaning that it was only staffed by men who did not have a wife and family) and the other keeper there was a man by the name of Rob. As I have mentioned, Ian spent the following ten months there and as well as ensuring that the light, which operated on the same principle of the old Tilley and pressure lanterns, was turned on at night and performing tasks such as rust removal and painting.
During his time there, he also had the opportunity to dive the waters surrounding the island and go spearfishing. Back in Australia for a bit of R & R, Ian then accepted a three month posting on Booby Island which was so named for the large population of Booby birds that inhabited the place.
Ian explained that this island had what was called a mail cave and this was where sailors from passing ships used to leave mail for others who would be passing that way. 'When Captain Bligh was on his way to Java, he left a letter for the British Government that advised of the mutiny that he had experienced,' Ian said. 'This was probably the first unofficial Australian post office,' he remarked.
From this posting, Ian then spent another three months on Fitzroy Island before leaving the occupation to study herbal medicine in America. He remained there for some time and it was during this period that he met the girl who was to become his wife. When he returned to Australia, the next part of his life took him back to working in the construction industry and raising his two children.
He described to me about how being in that industry and gaining carpentry skills had enabled him to build his own house. 'The house that I built myself was all made out of Queensland Maple,' he pointed out. Ian Lamborn discovered and moved to Bribie Island almost two years ago and, as well as taking the time to go dancing regularly, he has written a book in which he tells about his experiences as a lighthouse keeper and how the times have changed.
The book is titled "What! Me a Lighthouse Keeper? You Must Be Joking!" and copies of this rather interesting read are available at The Village Deli in Bongaree as well as at the Woorim Pharmacy, Woorim News and Mocha's Café.
Other Articles
https://thebribieislander.com.au/inventions-that-have-helped-and-sometimes-hindered/