Tags: Sophia Loren Celebrities. Actors. Movie Stars. Famous People
Behind a large semicircular glass table, at London's Harvey Nichols department store, Sophia Loren is holding court. The Academy Award-winning 52-year-old actress, born in Rome, is still one of the most beautiful women of the 20th century and a major international sex symbol.
Featured image(above): With Cary Grant, Frank Sinatra in the 'Pride and the Passion'.
Promoting her book 'WOMEN & BEAUTY' – a book even making sense 35 years later in 2019 – Sophia sits tall and straight, her scarlet dress accentuating her rings, earrings, necklace and bracelets, worth a sheik's ransom. The last of the classic screen's goddesses shifts uneasily on her throne, as crowds have always frightened her. And crowds there are. Security guards for the dedicated fashion floor wing shuffle about, barely controlling the outer cordoned off area of fragile rope barriers as the crowds swell.
And swell they do. But the inner press barrier, allowing breathing space around the glass table soon topples, as 50 photographers shove and push, inching their way forward until they rest their elbows and cameras on the table itself, crouching between the knees of those still standing up, and shooting upward through the glass to get a closer shot. "Smile Sophia!" "Your hand on your chin, please." "Throw your hair back Sophia!." "Down here, Miss Loren!"
Puppet-like and a little tense she obeys each command, laughing, turning, smiling, catapulting her body from side to side and lashing her lower half, both ankles and knees constantly touching, fused like a mermaid's fin. She is both the queen in control and the cornered tigress pushed against the wall. It's only when the photographers finally leave, that Sophia's shoulders drop and she visibly relaxes, while soft music plays in the background, interrupted only by the discordant till ringing out endlessly in staccato.
Are they going to run out of books?
People file past quietly and respectfully now, as if it was a state funeral, the endless queues clutching their hardbacks, approaching one by one, preening themselves for a private minute with their idol, and yet the atmosphere is warm when they actually chat with Sophia: teenagers, pensioners, young couples, middle-aged women, men on their own. For over two hours Sophia never stops writing – often lengthy messages – in hundreds of books. One girl has a second bite at the cherry with an extra three books.
Sophia recognizes her, does not let on, smiles sincerely and genuinely with an aura of disciplined calm as she speaks to the girl at length and writes those extra three messages. Surveying Sophia at close quarters like this – millions around the world still think of her as the most beautiful woman of all (yours truly included) – is quite educational. The very long neck for which she was called 'giraffe' in school, is just a little wrinkled now. Small crease lines flash around the corners of the largemouth when she laughs. And Sophia Loren laughs a lot: To endorse a point? Embarrassment?
Her overwhelming desire to please? Sometimes seemingly for no reason at all? The sweeping eyes too, show the odd line or two and the long nose is slightly hooked in profile. The grey in her hair is tinted out to a soft, deep auburn. She flicks back her head, the long tresses of exceptionally fine hair falling casually and carelessly, but a look you darn well know takes many hours to create. Her nails are short and without coloured varnish, the hands and fingers slim and betraying a few sunspots. They are working hands. Her elegant makeup is barely visible except for heavy mascara enhancing those famous long lashes, and black eyeliner, softening to grey eye shadow.
She seems exceptionally tall and slim, more than you would expect at 5'9", but you can imagine the scrawny teenager who was nicknamed 'stuzzi cadenti' (toothpick) at school. As Sophia's unorthodox beauty forms into the mosaic of the complete whole, not only does it outshine these individual irregularities, but it exudes an aura of peace and tranquility that rises as much from within than without. The queues are now getting even longer instead if shorter and Sophia stretches her sore hand and fingers in between books, occasionally clenching her fist, obviously averting a cramp.
There are now more and more fans depositing three and even five books on the glass table. And Sophia has the knack of anticipating the individuals' moods and requests. So she just keeps writing and chatting with strangers she will never see again. The gentleness and calm with which she treats everyone around her including the fans are not artificial. This proves to be her most outstanding quality, making her outward beauty so appealing and giving her a presence and charisma, time will not erode. But my time for an interview certainly has done so, as more and more copies are sold.
Sophia's entourage is hovering in the background. The publicity lady checks her watch, making sure the star will not be late for the next of the 18 scheduled press, TV and radio appointments, neatly sandwiched into Sophia's 48-hour stay in London. Her tall suave chauffeur is waiting for a wink of an eye to rush her to the Rolls- Royce waiting downstairs. So Sophia agrees to do my interview at Heathrow Airport the next day while waiting for her plane to take her back home.
As Sophia Loren is whisked away from the department store to a BBC radio interview and a meeting with Terry Wogan for the evening's show, she shakes my hand firmly with "See you at the airport tomorrow morning." No break for her. No going out tonight. Just a quiet dinner at her hotel, the Ritz. Next morning the confusion at Heathrow Airport reigns supreme. In the hustle and bustle, Sophia is not to be found anywhere. " No, Madam, Miss Loren is not in the V.I.P lounge yet." "No, I'm sorry, she has not arrived in the C.I.P. lounge." 45 minutes later the Swiss Air supervisor in a far-off upstairs office tracks her down when she arrives late.
"She'll see you for 15 minutes downstairs at the First Class counter." Scampering down several flights of stairs and endless corridors at the opposite end of Terminal Two, I find her queuing at the baggage check-in counter for her flight to Geneva. Her dark brown mink coat and matching leather gloves make her look a little fuller than yesterday, her black and red stiletto heels and tinted prescription glasses adding extra allure.
And just as the helpful official tries to usher us into a cabinet-sized office behind the baggage counter, a group of teenagers having recognized the star, rush up to her, asking if they might photograph her. Sophia's flight has been called by now, but like a clucky mother hen, both arms outstretched, encompassing the brood, she lets them snap her. Alone at last! But there can only be time for one question now, while the official assures Sophia that he won't let her miss the flight.
What is the most important thing in Sophia's life?
With her 40 years close family relationship: iconic Italian film producer husband of 140 films, Carlo Ponti, (he will live till 2007) and sons, Carlo, 17, and Eduardo,13, whom, because of miscarriages, Sophia had late, at 34 and 38, her answer is no surprise. "Motherhood. Absolutely. More than anything.
But the work is important too. Your inner peace and tranquility come through your experiences living your life day by day and trying to find a balance in your life. Only by finding that balance can you feel accomplished within yourself and feel fulfilled." The all-consuming, passionate love that flows from Sophia's lips accentuates her Italian accent more and more the quieter she speaks. "Motherhood has played such an important part in my life because I have always wanted children since I was a little girl.
That's why I live my life for my children. I try to be a good mother, but I don't know what makes a good mother. It depends so much on different circumstances and the characters of your children. It's impossible to make a hard and fast rule on it. Like all mothers from the south of Italy, I am a little overprotective. But we do it in good faith, wanting to protect our children from risks and this violent world. "I want my children to believe in honesty, sincerity, and kindness. Not lies.
I hate lies. And I try to nourish a strong relationship between the two brothers, as I had with my sister, Maria. That is absolutely wonderful." Are the boys being brought up religiously? "They are Roman Catholics but are not surrounded by organized religion. There will come a time, when they need to have much faith in God and when they will need to go to church. But it is something that has to come from them.
A mystic crisis that you have sometimes in puberty or between 12 and 18, is something that still has not happened in our family. "I hope it does happen because when you really believe in something, it means that you have faith in God, faith in yourself and faith in life. I think these moral qualities are extremely important in the world we live in today. "I try to bring the boys up with those good principles, with their feet on the ground. But it is very hard, being such a different situation: "I was hungry. They are not. My mother never had enough food for us. The meat was the greatest luxury.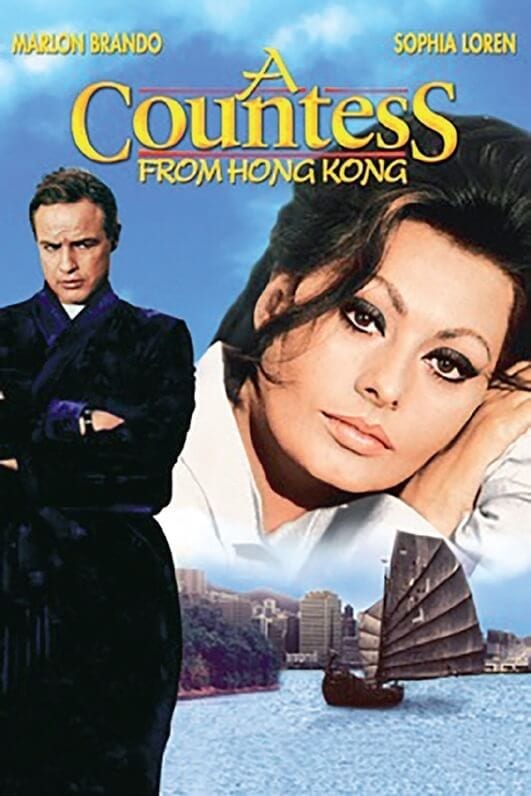 'A Countess in Hong Kong' with Marlon Brando
We had it maybe once a month. I even made my own sandals by putting ribbons on soles. They never lasted." Sophia pauses, becomes pensive, then continues: "But I do get fulfillment from my work as well as the family, especially when it really pleases me, like something creative and work I really want to do, a step forward in my career, playing older women and mothers, rather than the love or glamour interest." I notice a little slight grey having been tinted out as Sophia flicks back those tresses, observing me admiring her glistening auburn hair.
"I've always dyed my hair, not just now that I'm getting older because my hair is very, very dark. Age has never bothered me and always living with the children you even like to age, to watch them grow up. I was never unhappy about becoming older. Maybe I have to thank my boys for that, anticipating the future rather than longing for the past.
"Oh, I have to go……." Through an open slit in the door, the airline official is motioning for her to leave. And happy in the realization that in a couple of hours she will rejoin the children she so loves talking about, Sophia Loren makes her hasty exit.