Since I began to write articles for The Bribie Islander and The Mini Bribie Islander, I have pointed out on a couple of occasions that Elvis is alive and well and living on Bribie Island and in case anyone has been wondering just how I came to that conclusion, perhaps I should explain that I was talking about local entertainer, Nick Comino, aka Elvis Parsley.
Featured Image(above): Elvis Parsley entertained customers at the Grapelands fruit shop
in Woodford
The following article can be seen as an excellent example of how the right choice of words and quite a lot of talent enabled someone to use one career to pave the way for another. Nick was born in Gympie where his father was a farmer and fruit shop proprietor and after spending the youngest portion of his life in that area, he attended high school at Strathpine when his parents relocated to Kallangur. Jumping forward a few years, in what would seem to be a natural progression for someone who was brought up in a family of fruit growers and retailers, Nick became the owner of a fruit and vegetable shop in the town of Woodford.
'The bloke next door knew that I liked to sing Elvis Presley songs and one day he said that I was Elvis Parsley because I sold fruit and vegies,' Nick told me. 'I sat on that for about a year and after a bit of thought, I decided to call my shop, "Grapelands,"' he said. Nick explained about how from there on, the whole Elvis persona took shape. 'I learned to sing properly and then, after getting together with a few local muso's, we formed a band called, "Elvis Parsley and The Swinging Zucchinis" and did a couple of shows for the locals before starting to perform at the shop.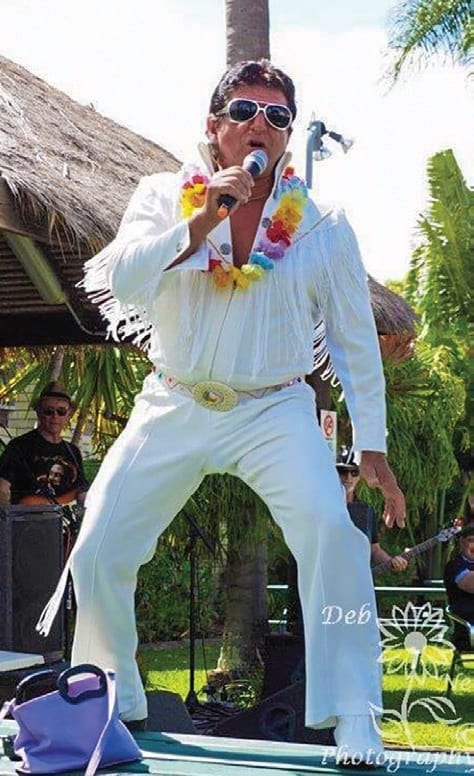 Making an appearance at Locals Only(left) and The King of Salad Roll(right)
It was then that I began to really play with words and thought, "I could be The King of Salad Roll." Word got around fast and we started to get tour buses coming to the shop and then the media and someone suggested that I was the "Singing Salad Seller,"' Nick recalled. When asked about where his artistic talent comes from, Nick credits his mum for passing on her abilities to him. Encouraged by the sudden popularity, Nick began to play with words and came up with song titles such as "Suspicious Limes," "Artichoke Hotel" and "Viva Los Vegies" and television shows like Rove Live and Great Outdoors featured him in one of their segments.
Sadly, Nick closed "Grapelands" in 2010 and due to having made many visits to Bribie Island to indulge in his love of fishing, he moved here and has been a well-known member of the community ever since. He pointed out that he still owns the property where his rather famous shop stood and has left the "Grapelands" sign there for people to see. From when he moved to our beautiful part of the world, Nick has performed at a number of events including Locals Only and the Vibe Markets although he did say that he doesn't do many shows anymore. 'I definitely don't perform off the island and I just liking helping out the community now,' said Nick.
'It is more of a hobby now and I spend time composting and composing. If Elvis were alive now I would sing a song to him that has the words, "A little more fruit and vegies – A little less fat in here,"' he remarked. As well as his proven talent as a singer, "The King of Salad Roll is also an accomplished poet and I had the privilege of hearing him recite the following poem which was for his father. "Farming and fishing occupies my time – and also the odd word written in rhyme. My life is simple but its rewards are great – because it's happiness I've found, that makes me relate.
Working with nature I see life in perfection – but man's own doings take the other direction. The riches I have are not in wealth – but in the life I lead that brings happiness and good health." As we sat on Nick's balcony, I commented on all the herbs that he has growing in his front yard and it really didn't surprise me when he replied with, 'It's parsley, I have to keep the name going,' As another example of his love affair with all things green, when I arranged to pay him a visit, Nick told me that I should just look for the greenest grass at the front of any home in the street and, I must say, he definitely wasn't exaggerating.
As I left after what was a very pleasant hour spent learning about this very popular entertainer, Nick presented me with a pot filled with parsley plants so I have called it Elvis. So for anybody who had doubts, I think that this is ample proof of Elvis being alive and well on Bribie Island and for a chance to hear him perform, I would suggest a visit to the Country Music Club's October concert.
Other Articles
https://thebribieislander.com.au/entertainers-of-the-island-jack-james/