Tags: History. Military. War. Planes. Aircraft. Museum. Queensland. Caboolture. Brisbane. WWII
During World War II, aircraft played a major role in both in the ultimate victory by Allied forces and, regarded as the flagship of Bomber Command, the four-engine Avro Lancaster bomber was arguably one of the most active in that role. A total of 7,377 of the type were built over the years of production and of these, 3,636 were lost during the conflict and only seventeen remain in complete form, two of which are still airworthy.
Featured Image(above): Bill Elliott's pencil drawing of Old Fred (lead aircraft)
Interestingly, most "high ops" Lancaster bombers were operated by squadrons belonging to the RAAF, flying consistent missions to bomb German targets and, as has been well documented, this type was used in the famous Dambuster raid in May of 1943. All aircraft are referred to by alphabetic call-signs and one of the Lancasters flown by RAAF pilots was DV 372, call-sign F for Fred, affectionately known as "Old Fred."
This particular bomber (the cockpit section of which is now on display at the Imperial War Museum in London) is on record as having flown over forty missions with RAAF 467 Squadron and one of the brave men who flew F for Fred was known to have been a resident of Bribie Island prior to passing away. English artist Bill Elliott often does commissioned work for ex-aircrew, drawing images of the aircraft which they have flown and it so happened that the Lancaster pilot from Bribie requested through a friend for Bill to depict "Old Fred" in one of his drawings.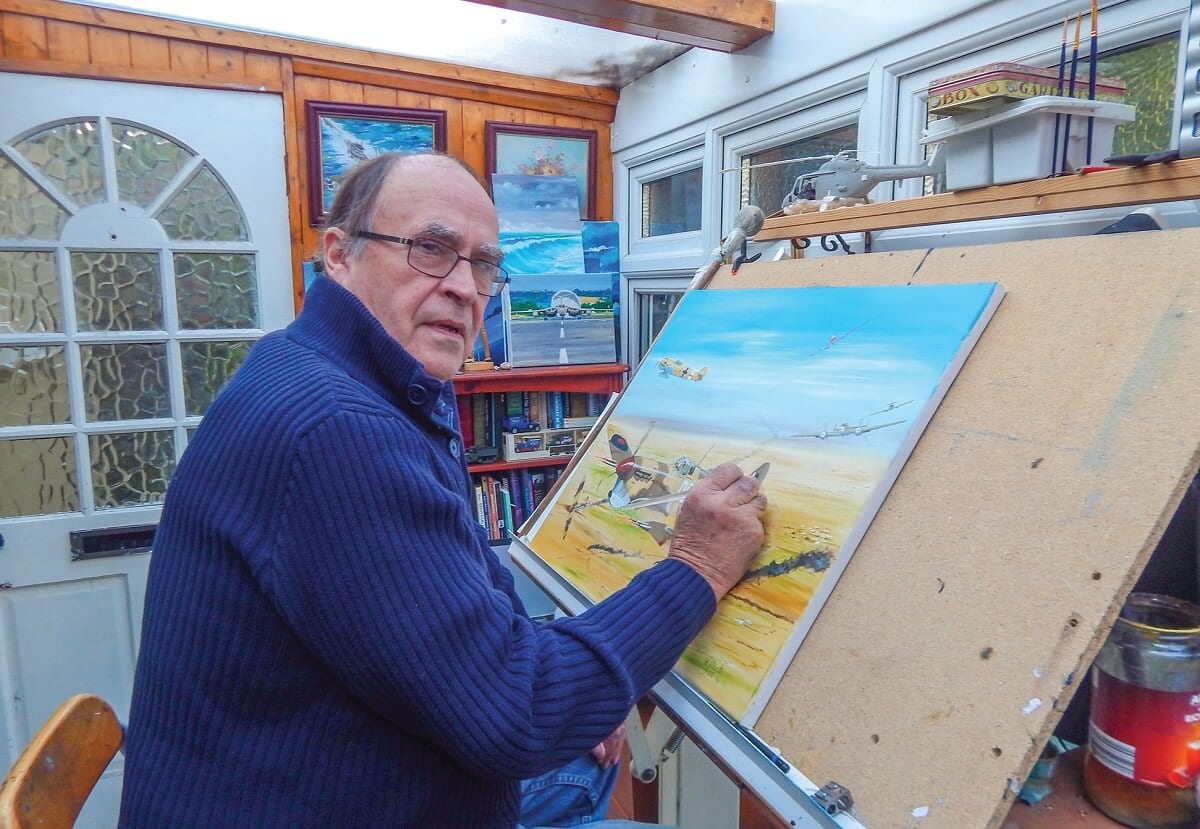 Bill Elliott
Upon completing the very realistic pencil drawing, and being aware of the gentleman's passing, Bill has sent the work to his brother Dave who is a local resident and made the request that his drawing be displayed in a place where it can be seen by all as a reminder of the valiant effort by our airmen. With this in mind, Dave and his wife Liz presented Bill's work, along with a copy of the aircraft's operations log, to the Caboolture Warplane Museum recently and museum Curator Graham Cowan is in the process of preparing a special place where the drawing will be noticed by all who visit the facility.
The cockpit section of Old Fred is on display at the Imperial War Museum in London
The Caboolture Warplane Museum in Hangar 101 on Mcnaught Road in Caboolture has undergone some very welcome refurbishments recently and visitors are able to not only have the opportunity to view the engines, equipment and artefacts on display and get close to the rare still flying warbirds but can also gain greater understanding of the stories about them and a range of DVDs are on hand should visitors wish to sit, learn and be entertained.
The museum has now welcomed back the 1944 P51D Mustang following it having undergone a complete rebuild and paint job. Since its return, the aircraft has been kept busy with aerial displays and adventure flights. A new display in the premises tells the story of local pilot Garry Coopers aviation career including his time as a forward air control pilot during the Vietnam War.
Dave Elliott (L) presented the drawing to museum president Carlos Fernandes (C)
and curator Graham Cowan
Anyone who would like to experience an enjoyable and educational few hours should definitely consider a visit to the Caboolture Museum. To find out more about what the museum has to offer, call 5499 1144.
Other Articles