Tags: Bribie Island History. Queensland. Moreton Bay. Brisbane. Street Names
I get many comments about these regular History Pages with readers often surprised to learn new things about the fascinating history of Bribie Island. The more you understand about this place, the more you can appreciate it. This rich history is in old buildings, parks, and even street names.
Street names such as CAMPBELL, WEBSTER, and TRIPCONY record the contribution of early pioneers, SUNDERLAND, RENTON, McDONALD, BOYD, and RICKMAN were early in business, while KOOPA and DOOMBA were ships that brought the first tourists here. The language of the indigenous people is remembered in names like BIBIMULYA, TOORBUL, and NEENUK.
Many streets are simply named for BIRDS, FISH, and TREES but the background to some street names that you drive or walk down every day may surprise you. There is an Exhibition currently showing at the Bribie Seaside Museum called "The Streets we Live in" which tells about several Bribie Street names, and I encourage you to go and see it. The exhibition runs until 21st APRIL.
I have written about just a few of them here to spark your interest. The Historical Society research the rich history of this Island and you can view many more interesting stories on our Blog Site at http://bribieislandhistory.blogspot.com or contact us on [email protected]
BRIBIE STREET NAMES
AVON Ave.
Avon was the name of the Ship that was scuttled in the Passage in 1915, and is still visible at low tide today 104 years later, across the Passage from Banksia Beach. It was fabricated as a Paddle Steamer in Glasgow Scotland in 1867, and shipped out in sections to Melbourne and reassembled. This 100 ft. long steel vessel ran from Melbourne to the Gippsland Lakes for 23 years before running aground on the NSW coast in 1891. It was largely abandoned before being auctioned for just 100 pounds and then used as a coal barge on the Brisbane River until it collided with a Ferry in 1911.
James Clark, known as the "Pearl King" before losing much of his pearling fleet in a Cyclone, farmed numerous Oyster Leases in the Passage from his land at what is now Sandstone Point. He purchased the hulk of the AVON, towed it to Bribie and scuttled it in the Passage as protection for his Oyster beds in 1914. It has been a navigation landmark in the Passage for more than a hundred years but is now rusted to the waterline and visible only at low tide.

Paddle Steamer Avon 1880's

Avon Hulk Scuttled 1915
BANYA St.
Banya Street takes its name from an early oyster camp in that area, long before the development of Bribie Island by the Brisbane Tug Company. Fred Foster also had a camp there in the 1880's catching and processing Turtle and Dugong, which is how FOSTER Street got its name. In 1912, George Campbell, a director of the Brisbane Tug & Steamship Company wrote to the Lands Dept. in Brisbane suggesting the recently surveyed new township on Bribie Island is named Banya.
Banya Street 1920's(above)
Banya Street 1954(below)
That name was deemed to be too similar to other place names in Queensland and so the name Bongaree, (Matthew Flinders aboriginal companion who first landed here in 1799) was selected. It was however agreed to have a major street in the new Township of Bongaree named Banya. Initially surveyed as a wide road reserve Banya St. began as a narrow bush sand track.
As land was sold and houses built it grew to become one of the grandest streets on Bribie Island with many historic buildings still remaining. These include two early churches, the first electricity Generator, Bakery and the grand Coungeau House (now TocH) built in 1916 for Naoum and his poet wife Emily, who wrote Australia's first Opera there.
CAPTAIN COOK Dr.
Is one of the many Streets at Banksia Beach that relate to the voyages of James Cook, the first person to sail and map the East Coast of Australia, but he never came anywhere near Bribie Island. Cook was a long way out to sea, east of Moreton Island when he passed here on 17th July 1770.
Cook named Cape Mor(e)ton and the Glasshouses but was not aware of any of the islands of Moreton Bay. It was a Developer who gave street names such as BANKS after Joseph Banks the Naturalist , and Daniel SOLANDER his assistant Botanist, WHITBY and PLYMOUTH for seaports in England, VENUS for Cook's primary purpose of observing the transit of Venus in Tahiti, ELIZABETH BATTS was Cook's remarkable wife and mother of their 6 children, who outlived all of them.
ENDEAVOUR was the name of Cook's sailing ship that made this amazing world journey, and BOTANY records Cooks first landing in Australia. Most of the street names in the western part of Banksia Beach record names and events related to that first voyage of discovery by James Cook in 1768/71.
Cook went on to spend another 7 years as a remarkable navigator and Captain of the "Resolution" on two long journeys exploring for a Great South Land and North West Passage, before his untimely death at the age of 51 at the hands of natives on Hawaii in 1779.
COTTERILL Ave
Named for the Cotterill family who emigrated from Nottingham, England to Bribie Island in November 1924 at the invitation of her uncle Alfred Hall. Lily Cotterill was a niece of Alfred Hall who had a General Store at Toowong before moving to Bribie and opening the first Shop at Bongaree in 1918 in partnership with Artie Bestman. Lily Cotterill, her husband Wilf and daughter Muriel aged 8, came from England in 1924 and built a corrugated iron residence and first kiosk shop at Woorim as soon as the new road had been constructed. They later moved to Bongaree to manage Hall & Bestman's leased farmland.
Wilf Cotterill quickly became known as the " Melon King" growing vegetables, raising chickens, ducks, and eggs for sale, as well as developing the substantial farmland. In 1924 the farm was 321 acres of leased land on the north side of Shirley Creek held by Alfred Hall and Arthur Bestman. By 1930 the lease was held by Alfred Hall and Wilf Cotterill who set to work clearing the land, erecting farm buildings and a house.
Over the years he built a successful dairy farm supplying fresh produce to the Hall & Bestman Store (corner of First Avenue and Toorbul Street) as well as the island's few residents and thousands of visitors and campers. During the years of World War 2, he supplied fresh milk to the Australian and American military forces located on Bribie Island and Toorbul Point.
By 1950 the leasehold was converted to freehold and Wilf Cotterill became the sole owner. The land was later subdivided for residential housing known as the Cotterill Estate, but the original Cotterill farmhouse remained on a block of land between Cotterill and Hall Avenue until 2008 when it was demolished to make way for units.

Cotterill Daily House 1996(above)
Clearing Land 1924(below)
FIRST AVE.
First Avenue was the first of five short avenues in the new Township of Bongaree and later became the first road that crossed Bribie Island to link Bongaree Jetty with the Ocean Beach. Originally known as Campbell Ave. in 1912 it was just a bush track, used by some early residents and visitors who made the long hot walk along the sandy track from Bongaree Jetty to Ocean Beach.
In 1914, George Campbell of the Brisbane Tug and Steamship Company obtained a 21-year special lease with a plan to build a tramway from the Bongaree Jetty to the Ocean Surf Beach. However, by 1923 Mr. Campbell conceded the tramway was not going to happen and a sand roadway was cleared using stone and cinders in the swampy low points, transported from Brisbane and unloaded on a special temporary jetty beside the main jetty at Bongaree.
From 1924 when this private road was completed it became known as Ocean Beach Road and was maintained by the Tug Company for the use of their company buses. There were few other vehicles on the Island in those days, but they could use the Toll road for a small fee, and pedestrians were still free to walk along the roadway. This situation continued until the early 1950s when the Brisbane Tug & Steamship folded and it became a public roadway. By the 1970s the road was part of the Caboolture-Bribie Island Road that ran over the recently completed (1963) Bribie Bridge to Woorim and is now known as First Avenue.

Clearing Ocean Beach Road, 1924
GOODWIN Drive
Named for John Goodwin who built the first Hotel on Bribie at Ocean Beach in 1939. John Goodwin managed the hotel with his brother Patrick and sister Isobel. It was the first licensed property on the island and had modern comforts for residents and holidaymakers. Soon after the Hotel opened World War 2 broke out and Goodwin's Hotel Bribie was taken over by the military and used as Officers' accommodation.
John transferred the liquor license to a small Cottage in Bongaree as a temporary Hotel, built a bar on the ground floor and lived upstairs with his siblings. This English style cottage was located on the corner of Banya and Foster Streets but has since been demolished and a modern home built. After the War, when the Hotel Bribie reopened, guests had a choice of 11 guestrooms and access to the bar, parlour, and lounge. Large swing doors between the rooms opened up to convert the bottom floor into a dance hall in the evenings. Later in life, John Goodwin became a Caboolture Shire Councillor and was influential in having electricity and water connected to Bribie Island.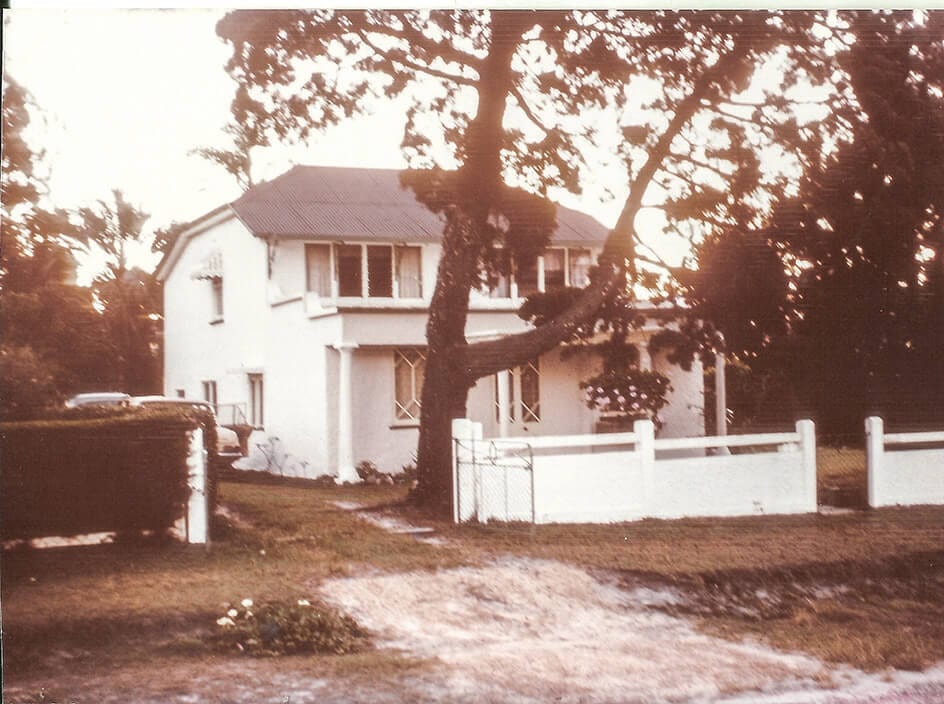 Clearing Ocean Beach Road, 1924
HALL & BESTMAN Avenues.
These two streets are named after friends and businessmen, Alfred Hall and Arthur (Artie) Bestmann (original German spelling with two N's) Their friendship started around 1912 when Hall, a grocery merchant in Toowong, would come to the newly built Jetty on Bribie Island for fishing holidays.
Here he met Artie Bestman who was the first permanent resident on Bribie Island, though he maintained connections with the family farm at Beachmere. Artie Bestman had cattle and beehives on Bribie and supplied fruit, honey and his father's homemade wine to early visitors. A partnership developed between Hall and Bestman when some campers on the island asked Alfred to bring supplies from his grocery store in Toowong.
In 1913, Alfred Hall built a weekend holiday home next door to Bestman, opposite the Jetty, and together they started selling groceries out of the window of his spare room to customers. As business grew, they built the island first grocery shop in 1918 which became known as the Hall & Bestman Store. This was located at what is now a Real Estate office on the corner First Avenue service road and Toorbul Street. From the early days, they had dairy cows for milk, chickens for meat and eggs and grew vegetables to supply both visitors and residents.
They also hired out cut timber tent poles to campers and would erect them for a fee before the campers arrived on the steamships.

Hall & Bestman Store 1920'S
WELSBY Pde.
This honours Moreton Bay historian and businessman Thomas Welsby (1858-1941), who was a respected politician and sportsman. His association with the Moreton Bay region started as a young man and continued throughout his life. Welsby sailed and fished throughout the bay and his intimate understanding encouraged his writings and contributed to the social and geographic knowledge of Moreton Bay.
He wrote seven books, the last in 1937 when he was aged 79 about a legendary character Bribie the Basket Maker. Welsby's story tells of the island getting its name from a man known as Bribie, an escaped convict who came to the island around 1842. He is said to have made fishing baskets in which he caught fish and crabs and lived on the island with an indigenous woman. However, by Welsby's own admission, there is no evidence at all that such a person ever existed In addition to his many books, Welsby had many accomplishments in his life and maintained a house on Bribie Island with an indigenous housekeeper.
He was a member of the Queensland Legislative Assembly and founding member and president of the Historical Society of Queensland. He was also a founder of the Brisbane Sailing Club which later became the Royal Queensland Yacht Squadron, and founding vice president, president, and patron of the Amateur Fishing Association of Queensland (AFA) formed in 1904, which established a base on Bribie Island in 1925, which is still in use today.

AFA Cottage 1925
WINSTON Dr.
Named for the Winston family of Ben & Mary Winston and their three sons Arthur, Edwin and Frank Winston. Ben Winston was elected a committee member at the first meeting of the Bribie Island Progress Association in 1922 and was Bribie Island Bowling Club's delegate to the Queensland Bowling Association.
In 1930 sons Arthur and Edwin Winston acquired a leasehold over a 360-acre portion of land which stretched from Creel Bend north to Benabrow Avenue and inland to where Winston Drive is today, where they established a Tobacco farm, which was then an experimental crop. The land was later converted from leasehold to freehold and subdivided to become known as the Winston Estate.
Older brother Frank would often visit Bribie island and he was an early camera and photography buff, so these visits gave him many photographic opportunities. In 1933 Arthur and Edwin Winston purchased the Bestman Store business which they carried on as Winston Bros Cash & Carry for the next three decades. They were the first to introduce bottled milk to Bribie Island which necessitated the installation of a cold room. A wooden seat was placed outside the shop as a popular meeting place for locals. It was affectionately known as The Seat of Knowledge.
Mr & Mrs. Hall at Winstons Tobacco Farm 1936
Arthur Winston became a Caboolture Shire Councillor for Bribie Island in 1962, following the death of John Goodwin, who had built the Hotel Bribie back in 1939. Frank went on to make extensive movie Films and Photos of Bribie, and created postcards from his photographs and sold these at the family store. Much of this extensive and historic photo collection was recently displayed by Lissa Winston at the Seaside Museum.
WHAT ABOUT YOUR STREET.
I encourage you to go and see the new Exhibition titled "THE STREETS WE LIVE IN" at the Bribie Island Seaside Museum which will run until April 21st. The Historical Society has monthly public meetings at the RSL Club on the second Wednesday of each month commencing at 6:30 pm. with interesting guest speakers on a wide range of topics, and you can see many more photos and articles on our Blog Site at http://bribieislandhistory.blogspot.com or contact us on [email protected]
If you know any history about your street, talk about it in the comment section below