Tags: History. Brisbane. Bribie Island. Queensland. Moreton Bay. Australian
For 40 years after the Jetty was constructed at Bongaree in 1912, everything and everyone coming to and from Bribie Island were by ship. After WW2 in 1947, an intermittent barge service started operating from Toorbul Point (now Sandstone Point) when motor cars became popular, despite the long rough bumpy dirt road trip from Caboolture. For 40 years all goods, food, materials, fuel, water, and equipment were brought over by steamship from Brisbane and unloaded at the Jetty.
Featured image(above): Koopa leaving Bribie
In the early 1950s, the Tug Co. sold the declining Steamship KOOPA to a private Bribie syndicate who attempted to maintain the service. It did not last very long and was soon abandoned, as the future of road transport took hold. In mid-1951, the Government called tenders for a new Goods Transport service to operate between Brisbane and Bribie Island.

MARQUARDT Transport trucks on barge crossing to Bribie 1952
SHIP to ROAD TRANSPORT
Stan and Alma Marquardt ran a small trucking operation at Mondure in Wondai Shire. They decided to submit a tender and in July 1951 traveled down to visit Bribie Island and speak with residents and businesses, measure distances, estimate volumes and evaluate the prospect of business success.
Initial reactions from Bribie merchants were mixed, as they had relied on twice-weekly steamship deliveries for a long time. Stan Marquardt decided to submit a tender based on current railway charges, which were 2 pounds 10 shillings ($5) per ton and 2 shillings and 6 pence (25 cents) per parcel.
His first customers were likely to the few Bribie Shops (Vines, Campbell's, Brennan, Winston, Renton) Milk vendor (Christoferson) Hotel (Dudley) Pies (Young) Butcher (Camp) and Baker (Kling). It was several months before being advised by the Government that he had won the Tender, and Marquardt was then required to commence the service immediately in March 1952.

First Transport Truck 1952 – Brisbane to Bribie Island via Toorbul Point
MARQUARDT TRANSPORT
They sold their house and business in Mondure, and with Alma pregnant with their second daughter, rented a house on Bribie for 12 shillings and 6 pence a week ($1.25) and moved here. They kept their 5-ton truck, which required suitable signage to comply with requirements. They had it painted and launched the "Brisbane to Bribie Island via Toorbul Point" goods transport service.
This was a big step for the whole family with just 50 Pounds in the Bank, a toddler, and a pregnant wife and starting a new business from scratch. The first truck road service was on 10 March 1952 with a drum of Tallow from the Butcher and 200 loaves of bread from the Baker. The new service had been initially approved for three days a week, and with no phone, unreliable barge service, dreadful road surfaces, and hygiene controls that were hard to enforce.


BUSINESS GREW QUICKLY
Businesses and shops on Bribie soon recognised the benefits of more frequent and timely deliveries both to and from Brisbane markets, and this contributed to the termination of the Steamship Koopa service within a few months. Marquardt Transport had the sole rights to service Bribie from Brisbane and it was soon carrying soft drinks and ice cream in dry ice containers, small and large Parcels, Furniture, Beer and Groceries.
Within months, the service was extended to every day on demand, and the workload, paperwork, and communications soon became too demanding and complex to operate from Bribie. The Marquardt family bought a house in Zillmere where they continued to live for the next 43 years.
A second truck was required as the variety of goods grew to include Meat, Milk, Fuel, Fruit, Vegetables and even huge loads of fresh Mullet from the beach fishermen. There were also many large loads of Bottles and Cans, which remarkably survived the noisy bumpy road trips and the empties on return. Reversing fully laden trucks on to the rocking barge in rough weather provided many exciting moments.
SUCCESSFUL BUSINESS SOLD
The business was a big success but the workload was hard and demanding on a family with two small children and growing health problems. Stan Marquardt had done very well, working hard to establish and build a business from nothing. As far back as 1953, the Government had even started talking about building a bridge to Bribie, which offered even greater opportunities.
They decided to sell their successful Transport business to Braithwaite and the family took a long and well-deserved holiday. Of course, it was 12 years later in 1963 before a Bribie Bridge would be constructed.

Marquardt Park proud family 2002
PIONEER BUSINESS RECOGNISED
In 2002, to mark the 50th anniversary of Marquardt starting the new road transport business, Caboolture Shire Council dedicated a new Park in his honour.  Marquardt Park in Alamanda Drive, facing Azalea Drive, Bongaree, was the scene of a proud family unveiling ceremony in March 2002 and a tribute article appeared in the local newspaper.
Marquardt Park News Article 2002
A great many pioneer business residents made significant contributions to the establishment of new business and service ventures on the island over the years. Some are remembered and recognised with Streets and Parks bearing their names. Others are unfortunately long forgotten. Stan Marquardt documented his family story some years before he died at the age of 89 in 2010.
He died almost 50 years after he established the first Bribie Truck Transport business, but it is appropriate to remind residents and readers of this important step in the development of the island in the years when large steamships were replaced with small barges and road transport. MBRC has now replaced the original park sign with a new one, but residents and visitors rarely see this quiet area.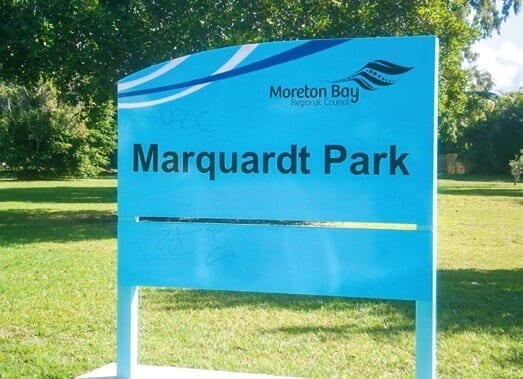 Stan Marquardt died in 2010
For those who do see it, there is nothing to indicate the story behind the naming of the park. Unfortunately, that is also the case for most other "named" parks on the island. I think it is a pity that the Council does not see fit to put just a few words on Park signs to make the names meaningful. I am pleased to pay tribute to the Marquardt family with this article.
Other Articles