Tags: Fishing Report. Tide Times. Bribie Island. Moreton Bay. Bongaree. Bellara. White Patch. Woorim. Banksia Beach. Sandstone Point.
Wow, what another great winter we have just had with beautiful crisp mornings and warm, calm sunny days. With springtime already on the doorstep and the warmer waters and weather heading our way means jacks, muddies, whiting, pelagics, and many other warm-water species will be heading our way. Time to pull out the trolling gear, pots, and snorkeling/dive gear. With so many great spots to dive it's no wonder why most of my fishing trips end up with a couple of hours freediving around the many different locations in the bay and offshore Moreton.
Henderson's rock, flinders reef, the boulders, shallow smiths, Caloundra shallows, Bulwer ledge and the top of hutchies all great places to go for a free dive, visibility can be up to 30m out there. There's also some nice patches of coffee rock reef just back from the cape towards Comboyuro Point approximately 400m back. This is also a nice little spot for a look. Probably the best spot of all would have to be flinders reef it's such a beautiful reef system with good protection from south to south easters.
Tide Times
Click here to see Bribie Island Tide Times
Anchoring here on the moorings or getting that little bit closer to the reef is an amazing experience and location. We generally go in there for the day or night and anchor up, cook up, and have a few coldies. With great visibility and hundreds of fish, sharks and turtles all calling the Flinders reef home. A few of the locations are green zones so be careful and ensure all rods are de-rigged and stowed away or on the floor. There are hundreds of pristine locations to pull up to and enjoy, as the areas natural beauty and the diversity of plant and animal species are amazing.
Gilligan's island, Cowan Cowan, Yellow Patch, Shark Spit, big sandhills, and Kooringal are all unbelievably beautiful locations all within an hour of beautiful Bribie Island. Out offshore at present has seen some nice reefies getting caught with all the local reef systems, wrecks, ledges and bommies holding some great mixed species. Now's a great time to get out and target an excess size kingie or amberjack with some huge fish getting caught off wide Caloundra, hutchies, tempest and the shoals off the cape. Don't be afraid of using big live baits for these brutes.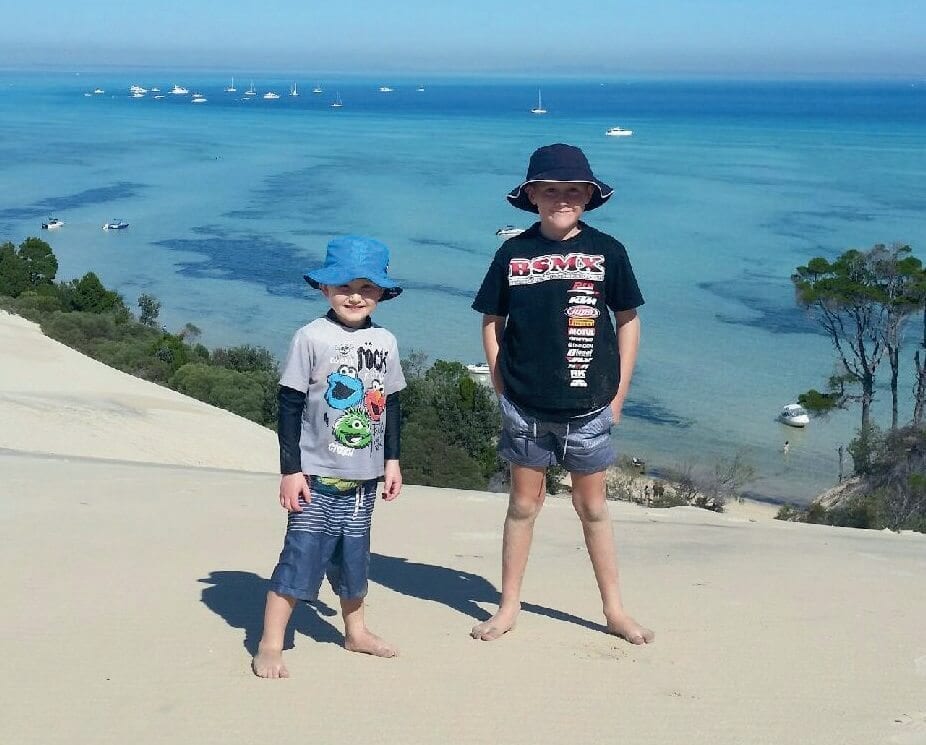 We usually float back live squire, moses perch or pearlies. It's amazing to watch a frantic 35cm-37cm squire getting eaten by a school of voracious kings. 80lb braid, twin 8-10/0 mustard big guns or mustard live bait hooks,100lb mono wind on and then hang on. Amberjack and Samson fish have been known to grow to 60-70kg and quite possibly fish of this size are out off Moreton at present. Generally, these fish prefer hanging around the 60-120m marks and usually always hang around the wireweed pearlie schools, pearl perch definitely one of their favourites.
In the passage, the bream have been spawning for the last few weeks and have been biting pretty much everywhere from the tip of Caloundra right through to Buckley's ledge, tiger rocks area. The whiting won't be too far away either with a few early season whiting already getting caught. Live worms are the pick of baits. September usually sees the start of the big duskies coming into the estuaries to spawn also. Now's a great time to target some nice duskies in the passage.
Drifting around the passage working plastics off the many drop-offs is a great way to target these tasty estuary fish. Dusky flathead has a Minimum size limit of 40cm and a maximum size of 75cm and a bag limit of 5 per person. The sand crabs are going pretty well with the weed now almost gone, although with a dry hot summer predicted the weed will only return again soon.
On the mud crab scene, only the odd one or two about, the crabs being caught are crackers though. So, as we get that little bit closer to the great part of the year enjoy the great outdoors over the next few weeks and "don't destroy what you come to enjoy". Tight lines and have a safe and awesome trip out on the water.
Other Articles
https://thebribieislander.com.au/bribie-islander-magazine/2019/gloss-magazine-bribie-islander-19th-edition-september-13th-2019-issue-96/