Tags: Gardening, Bribie Island. Tips. Advice. Club
Living in Queensland has its challenges for a gardener – one of them – gardening in sand is a whole new experience for me AND there is still lots to learn. Having originated from the "land of the white cloud" where I enjoyed fertile loam and an unending water supply – gardening in Godwin Beach is very different.
It did take me a while to adapt to the change in seasons – the wet season in Summer (change that to the drought season) and I still struggle with dry grass in Winter!!!!! I miss the four seasons, especially Autumn with its riot of colour. I have always been a gardener, encouraged by my mum from when I was a youngster. Every year I had a flower garden which I nurtured for the end of year Flower Show held at our primary school.
Gardening for me is relaxation and meditation – I can easily resolve my problems after an hour in the garden – sometimes it requires some hard physical work to achieve a peaceful result!!!!! My garden has evolved and grown substantially over the years I have had the property. I love creating new spaces and this has been of necessity in many cases as I experiment with which plant will grow where!!
Hard landscaping is also part of the bigger picture and what I can't do myself one or another of my sons or grandson will help. It took me some time to appreciate the importance of mulch – whether it be bark, red or black, mushroom compost, sugarcane, lucerne or barley straw!
Pond started
My godsend has been the water bore which existed on the property when I bought it and I now make good use of soaker hoses. I have learned to not water too deep as sand does not retain the water and often the nutrients are wasted. Fertilising gets remembered now and again – the best source for me is pellets scattered on the surface.
Which plant goes where is haphazard – filling in the gap is my motto – so I guess my garden could be referred to as a "cottage "garden. I can't resist planting cuttings as I trim and tidy so there are plenty of extras in the nursery! Having grown up on a farm where a vegetable garden on the river flats was part of the scenery, I get a lot of pleasure from growing my own food (not all of it!!!!).
The pests take a bit of getting used to – fruitfly, grasshoppers, nematodes, cockatoos, possums but somehow I manage to harvest as well as keep them fed!! However not all the critters are pests and I encourage the native wildlife in its many forms – despite the neighbour's bird-loving cat!!!!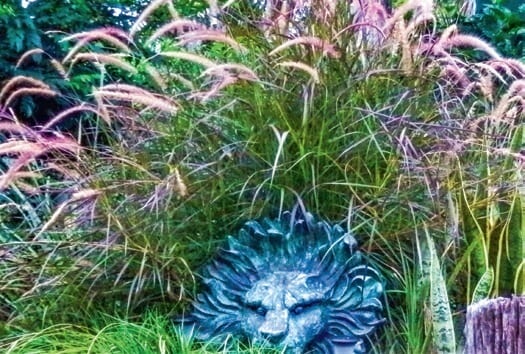 Pond finished
Since I retired I have had great enjoyment from belonging to a garden club (or two!!) Socially it is great as the many and varied people attending delight in sharing their expertise and showing their successes on the exhibit bench. It is there that I have learned about many a different type of plant which has ended up in my garden. The Speakers who visit each meeting also add to the many facets of gardening, it is a place where knowledge comes in 'spadesful!"
I love sharing my garden and it has hosted many events. My visitors love a stroll around the grounds to see what's flowering before we settle to a cup of tea. Presently there is a new delight for me – showing my garden to my great-grandchildren and hiding "critters" amongst the foliage – next project – a "Fairy Garden"!!
On the 3-10-1956, my Grandmother wrote in my autograph book;
OUR GARDENS
"The kiss of the sun for pardon The song of the birds for mirth One is nearer God's heart in a garden Than anywhere else on earth"