Tags: Sailing Club. Bribie Island sailing. Boating. Club. Outrigger.
ON THE WATER WITH PAUL BIRD AND ROSEMARY ANDREWS
Boating is an activity that can encompass many types of watercraft and can be enjoyed either alone or in the company of one's partner, friends or as a part of a club and for the April "On the Water" article, we meet Paul Bird and his partner Rosemary (Rose) Andrews, a couple who participate much more than one form of boating.
There is little doubt that if someone's parents introduce them to water activities when they are just an infant, they will most likely grow up with a desire to spend their leisure time on the water and this was very much the case with Paul. 'My mum and dad used to bring me to Bribie when I was a baby.
They went there all their lives,' said Paul. 'We used to go across on the barge before there was a bridge. My uncle used to sail and dad always had a boat but because there were very few people with outboard motors in those days, we had to row out into the passage to go fishing,' he said.
Paul told me that he spent some years in the Navy Cadets and it was during that time that he learned to sail. As is often the case, work and family commitments took precedence over leisure for Paul over the next part of his life and he explained that, after completing an apprenticeship as a mechanic, he joined the RAAF and spent twenty three years as an engine fitter, working mainly on Hercules transport aircraft and helicopters.
He was deployed to Malaysia for three years and also went to Sinai with the Peacekeeping Force. He resigned from the air force when he saw the need to remain in one place for the sake of his children's schooling.
Returning to Queensland in 1994 and building the house that he lives in to this day, Paul began to rediscover his passion for the water and after six months work in his shed, he had built a sixteen foot open lug rigged Scruffie. Keen to go a bit bigger as most boaties are, Paul followed this up with the construction of an eighteen-foot weekender which took him eighteen months to complete.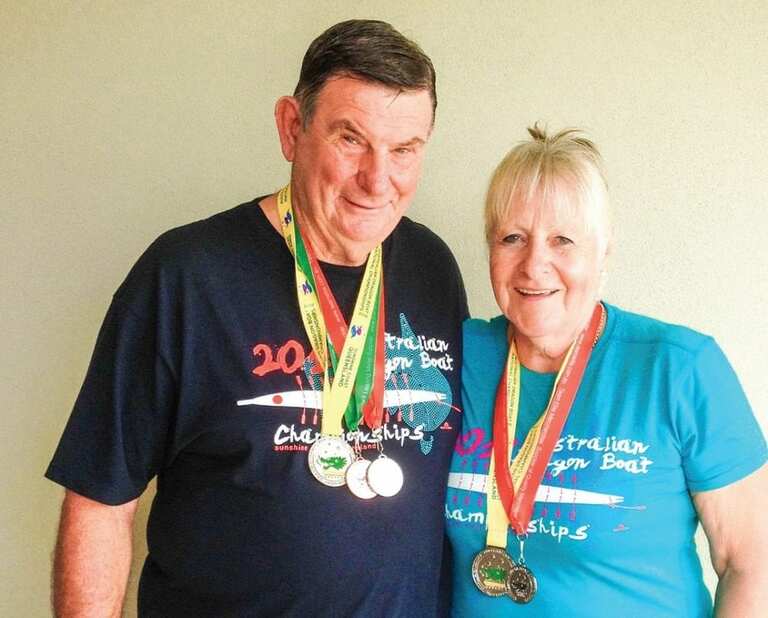 Champion dragon boat paddlers Paul and Rose with their medals
This resulted in what Paul describes as five years of happy sailing which included competing in numerous classic regattas and wooden boat regattas. 'It was about this time that the Bribie Island Sailing Club was founded and, along with Barry Colson and Doug Wilson, I was an inaugural member.
I began competing in the club races but, due to the overall weight and design of my yawl, I spent a year at the tail end of the field,' Paul explained. 'One day, while enjoying a beer with Barry Colson who by the way is a well known designer of racing yachts, I asked him if he could design me a yacht that had the classic appearance above the water but good lines beneath the surface.
To cut a long story short, Barry came up with a design that suited my requirements and this resulted in the building of a 6.5 metre vessel which I still own today and have called the very appropriate name of "Therapy,"' he added. Paul went on to tell me that after launching "Therapy" in time for the 2007 Bribie Island Classic Regatta, he demonstrated just how good she was by winning the 2008 club championship.
At that time, Paul was competing as the only person on board but more recently, Rose has become a valuable apprentice sailor and together, they were the winners of the 2017 Pumicestone Series. I pointed out earlier that Rose and Paul are more than just sailors and as well as being members of both the Bribie Island Sailing and the Bribie Island Mahalo Outrigger Canoe Club, they are medal-winning dragon boat paddlers, both in state and national titles.
Rose said that she became keen on the sport after hearing about it when visiting her late husband in the oncology ward and has been paddling for eight years. Paul told me that he has been paddling for three years. The couple are regular paddlers with a dragon boat club at Redlands and they made mention that paddling in the outrigger canoes is good training for dragon boat racing.
Just when I thought that I had heard about everything that Rose and Paul do on the water, Rose informed me that they both have a kayak which they take out quite often. Both Rose and Paul are valuable members of the Bribie Island clubs with Paul being Vice-Commodore of the Sailing Club and Rose the Vice-President of the Mahalo Outrigger Club. These clubs operate under the banner of the Bribie Island Boat Club.
I have been told that both the sailing club and the outrigger club are constantly attracting new members, due mainly to the friendly and welcoming atmosphere that can be experienced.
If anyone would like to inquire about joining either (or both) of these clubs, a call to 0490 471 930 will provide all the relevant information.
Featured Image: The beautiful 6.5-metre Therapy that Paul built in his shed
Other Articles
https://thebribieislander.com.au/boating-camping-and-fishing/
https://thebribieislander.com.au/fishing-report-bribie-island/