Tags: Tourism, travel, Queensland. Australia. Uluru. Ayers Rock
Hi there, here is just a quick rehash in case you have missed the latest episodes from 'The Bribie Islander'. My short stories are all about our family, Richard my hubby, Ginger our daughter and myself, going on a 15 month trip of misadventure in a "big rig" around Australia, on a mission to find the place to call home. After nearly seven months on the road, we were finally on our way to Uluru. I expected a totally overrated brick brown rock and was worried that I would struggle to see the point.
On top of that, I envisaged a run down, undersupplied, caravan park full of flies and heat to kill you. Well, thankfully nothing of that set in … With the tail end of a cyclone, the heat was replaced by amazing thunder and rain, revealing a rare sight of the rock with wild waterfalls crashing down the sides and rapidly filling up the surrounding waterholes. However, this mind-boggling spectacle only lasted a couple of days and the clouds soon gave way to the beautiful blue autumn sky.
Camel tour
Now the true colours of the rock started to shine and once the sun began to set … just like clockwork 'the rock turned red' … At that time of the day, everyone at Uluru knows that you have to stop whatever you are doing, ignore your worn out body, find your cameras, hop into your car, and follow the urge you did not know you had…to join the pilgrimage to the sunset car park. It's your duty as a tourist to turn up religiously around 5.30 pm with drinks and nibbles while being social and enjoying the transformation of the brown rock into an unreal red glowing masterpiece of art.
Dodge and 5th Wheeler
There is a certain bonding going on, as everyone is at this place for the same reason and heading back to camp once it gets dark in a convoy gives time for reflection and soothes the soul. It has the vibe all right and actually, I think this is where the vibe came from in the first place! However, even in sober daylight hours, walking to the supermarket, you pass a lookout to remind you where you are, (at the rock), and that it's not just the usual willy nilly trip to the IGA… But my favourite way to admire Uluru was our two-hour bike ride around the base, with pit stops at water holes and painted caves.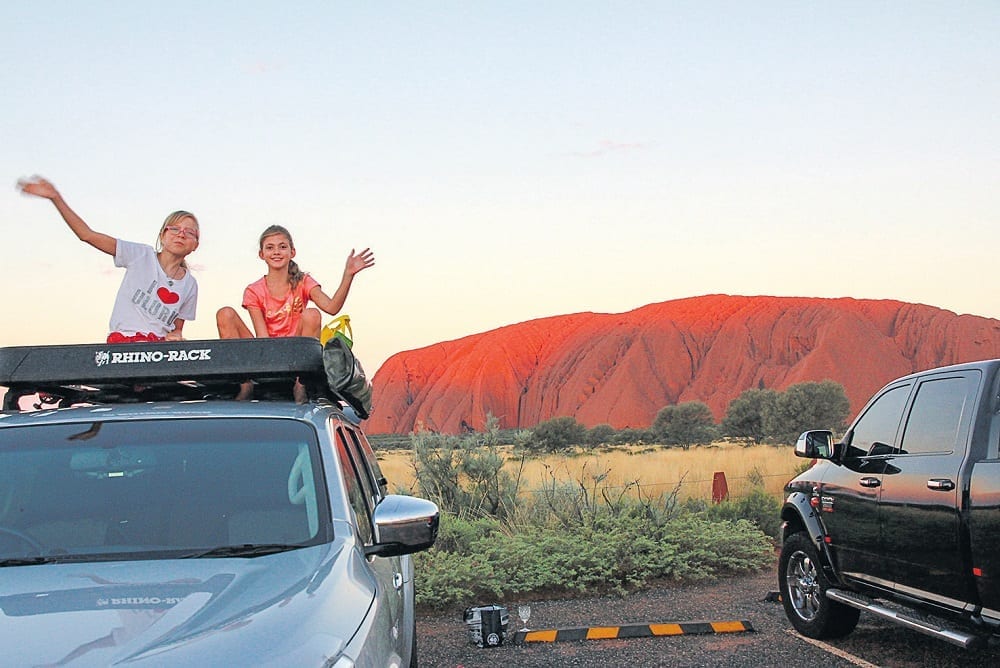 Sunset car park
Ok …coming back down from cloud nine, even the caravan park was pretty special, with cold showers, an ice swimming pool, huge centipedes and wolf spiders at the laundry, making us feel part of the outback. Along with free activities like walking with rangers, learning about aboriginal tools, food, painting and traditional weapons, we were lucky to experience a four-day festival. All this was shared with our friends we met in Coober Pedy and a gorgeous couple from Buderim, who was also travelling with a 5th wheeler and parked right next to us at the Uluru caravan park!
Uluru after rain
We had no idea that we would meet up again a year and a bit later, at Bongaree, from where they were exploring fabulous Bribie Island while they were house-sitting for a friend. It's pretty special when you live on the road and catch up here and there at different destinations and caravan parks. And the kids are over the moon to see each other again, but the main feeling you get is that you reconnect with some dear old friends! … although you might just have said goodbye a week or so ago… Around that time there was a documentary on channel nine about families pulling up stumps and taking to life on the road.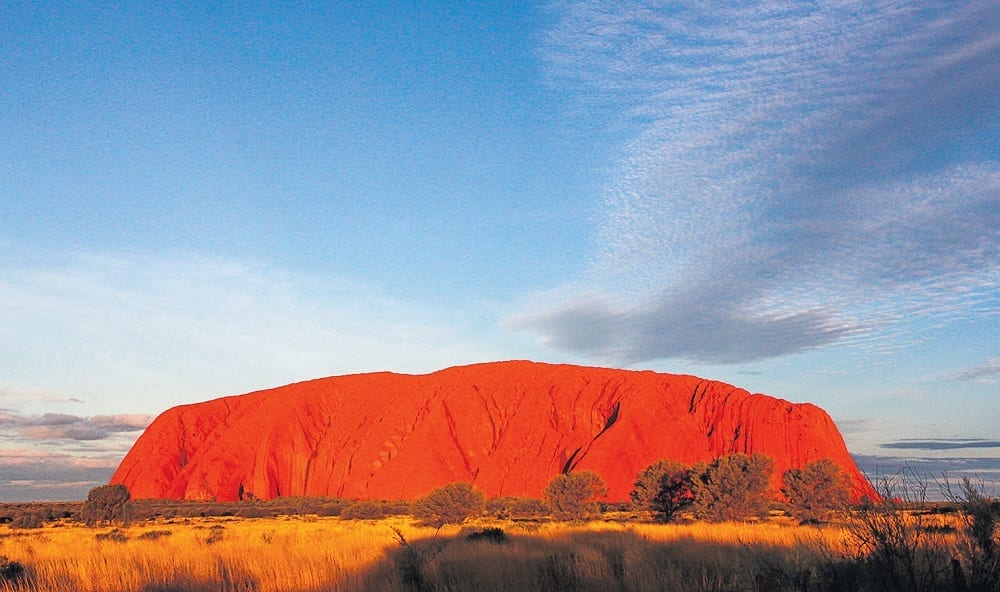 Uluru at sunset
We, however, felt that there was so much more that could have been covered to paint a fuller picture of that experience. Topics like schooling, daily rituals, pets, food on the road and diets, van and car problems, needs for individual space within that compact living, time and weather changes, illness and finding doctors, missing family and friends and overall living on the road compared to holidaying… Getting the vibe when you are on a holiday is easy, however, how do you get the vibe if you still run a household, do schooling and maybe even work while travelling?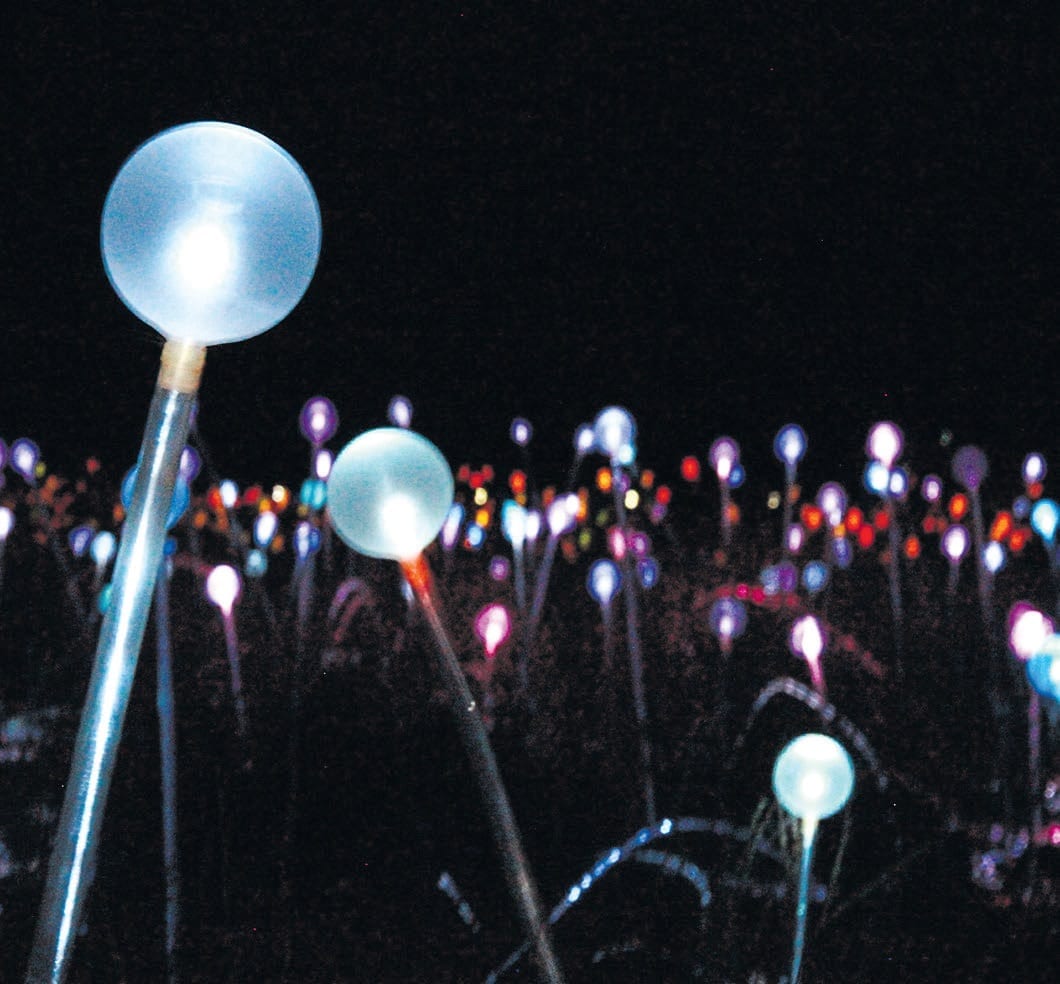 Field of lights
Compared to retired Nomads…do families burn out from living on the road? (send me an email I would love to hear your experience) Last but not least, one of our favourite experiences at Uluru was the 'Field of Lights' installation. We decided to start this adventure with a camel ride, followed by pre-dinner drinks and nibbles while watching the sunset over Uluru. A few steps down the hill leading to a beautiful pop-up al fresco restaurant, with live entertainment and a stargazing talk, concluding with an hour walk through the 'Field of Lights' which included 50,000 colour changing lights!
Bike ride around Uluru
This will stay with us forever, such a special experience! Leaving you with this enlightened vision, I hope you can join me again for the next episode when we leave all those luxuries behind and start roughing it at some free camps on the way to Broome! 'The Long Way Round to Bribie'! sabine@svgdesign.com.au
Other Articles