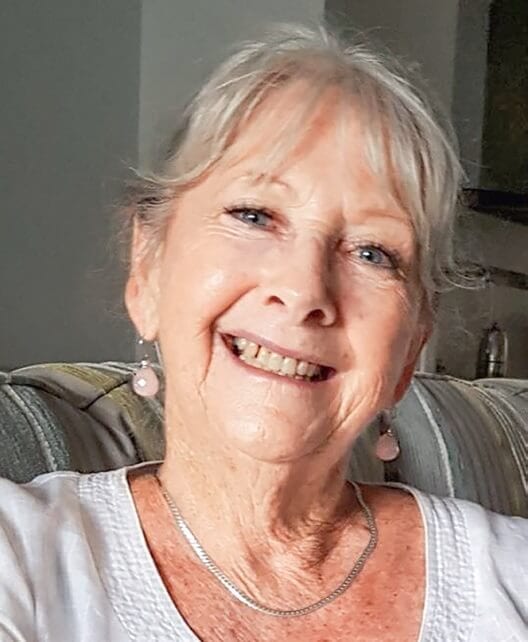 Artist of the Month for May at the Bribie Island Community Arts Centre, Carol Oyston uses the many destinations to which she travels, and places she has lived as subjects for her paintings. Her exhibition, therefore, features, among others, pictures of water boats at South Mission Beach, a sunset at the town of 1770, wheat fields, bushfires in Tasmania and the Great Barrier Reef at Cairns.
In these Artist of the Month works are found a preponderance of blue: in seascapes, boats, beach, and sky, attesting to her love of painting them. Hence why Carol has called her exhibition Elements of Blue.
Before moving to Ningi 18 months ago, Carol lived in Crows Nest where she was involved in textile art. Her love of fabrics and stitching produced dyed silks, clothing, and other beautiful lace, fibre-based and painted works. With the women in her textile mixed media art group, she held an exhibition called Elements of Red in Toowoomba. There were also Out of the Box in Crows Nest with friend Gail Grunske, who will be doing a workshop at BICAC in May, and Women on the Edge exhibitions.
While caring for a husband dying of cancer some years ago, Carol found her art and position as Vice President of the Crows Nest Arts Council gave her the alternate focus she needed to cope with the extreme stress in her life at the time. Today she continues creating for the satisfaction it brings her finding it improves her life in an abundance of ways. Her message, as she will share in greater detail at her Artist of the Month Talk on Tuesday 14 May, is 'Everyone is an artist.
It's not important,' she emphasises, 'where you come from; you don't have to be a university graduate to practise art.' While interviewing Carol for this article, she told me about some of the countries to which she and partner, Yves, have recently traveled, along with their intended destinations in the near future: Ireland, Portugal, Spain, Morocco, America, and Antarctica.
I was left wondering if we will be seeing an element of multi-colour in her art and exhibitions to come. Carol Oyston's Artist of the Month Exhibition will be held throughout May at the Arts Centre on Sunderland Drive, Banksia Beach. The Centre opens at Tues-Sun 10 am – 4 pm. Ring 3408 9288 for more info, and to let us know if you are attending Carol's Artist Talk.