Most people do not associate organisations such as Rotary with young people. I know I did not, but I have since learned that I was mistaken. In this article, I will attempt to give a simple explanation of how young people can become involved in the various aspects or offshoots of Rotary.
Rotary clubs can inspire young leaders age 12-18 and encourage them to become responsible global citizens by supporting Interact clubs. We have an Interact Club at Bribie Island State High School. If you are interested in joining this club or one at other local high schools, check with your school or contact a local Rotary club to discover if there is an Interact club in your area.
Go to an Interact meeting and find out how you can join a service project or community event. Rotaract clubs are for young adults aged between 18-30years. Rotaract focuses on the development of young men and women as leaders in their communities and workplaces.
Clubs around the world take part in international service projects, in a global effort to bring peace and international understanding to the world. Most Rotaract activities take place at the club level, usually every two weeks, which feature speakers, special outings, social activities, discussions or visits to other clubs. Club members get together on designated days for service project work, social events, or professional/leadership development workshops.
Rotary clubs across Australia sponsor young people in the development of skills in the areas of communication, leadership, road safety / driver awareness, resilience and self-esteem and in furthering their career aspirations. Rotary Youth Exchange caters for students aged 15-17 who are interested in travelling and experiencing a new culture.
You will spend a year studying abroad living with a Rotary volunteer host family who will introduce you to a new culture, language, and lifestyle in one of over 12 countries. Australia/New Zealand Youth Exchange is a shorter version of a similar exchange for slightly younger students.
Youth Driver Awareness is a one day program which targets high school students in Years 11 and 12. Supporting the graduate licensing schemes, the program focuses on the "big five" road safety issues of speeding, driving under the influence, fatigue, seatbelts and distractions, as well as the importance of driving as a social responsibility.
If you have an interest in science and want to engage in a wide range of fascinating hands-on science activities then the Science Experience is for you. This program provides information for Year 9 and 10 about further studies in science, technology, engineering and maths, highlighting the wide range of careers that will allow you to pursue your interest and abilities in the sciences.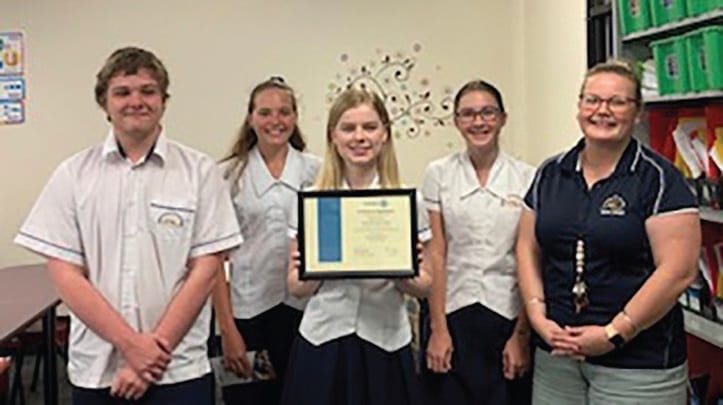 For Year 11 students National Youth Science Forum gives an opportunity to visit a large variety of Australia's leading scientific facilities and talk to many of our top scientists. The Rotary Adventure in Citizenship Program is an intensive but fun-filled week-long program that is run in partnership with the Parliamentary Education Office.
Delegates are immersed behind the scenes in Parliament House observing how parliament works, and role-playing debates. They will meet lots of MP's and some of the press gallery journalists. Rotary Youth Program of Enrichment is a weekendlong program, for students aged 15-17, that will see you have fun and learn new skills such as problem-solving and public speaking and put them to practical use through debate and physical activity.
Rotary Youth Leadership Awards is a seven-day residential seminar for aspiring leaders aged 18-25 years. Participants can seize the opportunity to develop leadership, communication, and problem-solving skills, and can practice new behaviours, forge life-long friends and challenge their own personal belief systems and values.
If you are interested in any of the programs I have written about I would suggest you Google it, to begin with, and then contact June Sturges, our Club's Youth Director, on 3410 8817 or warwickandjune@bigpond.com. Alternatively, contact your local Rotary Club for further information.
Other Articles
---