Dear Editor, I recall the Finance Minister saying it was a waste of time pursuing the Banks; now he has changed his tune, what a surprise. Yet another sign of this Governments lack of interest in those they are paid to represent. I would like to see a major enquiry in to Energy charges and why Electricity is so expensive. Why are pensioners slugged and not given a regular cost of living increase to offset these massive price hikes. Fuel prices , why have they jumped by up to 20 cents per litre?
I will tell you why, because they can; this Government is just sitting back, Turnbull get back here instead of grandstanding in the UK. Start doing what you were meant to do and keep a check on rorting by those in Power. I would like journalists to be seen being pro-active with keeping Turnbull and other MP's, active in representing those who put them in power. Petrol Prices, The Banking Enquiry – What if anything is the Finance Minister doing. Hospital waiting times for surgery etc..
Kind Regards, Farley, Bribie Island
Dear Editor, The opening and closing ceremonies at the recent Games left many of us wondering what the essence of it all was supposed to be. About Queensland? About Australia? Or should it have been about the athletes, the 71 nations coming together in harmony to live out their dreams and aspirations. In the end their achievements were remarkable, yet not so the closing ceremony.
For a mere $1 million dollars some of us could have shone a light brightly on these wonderful athletes, woven a theme around them, highlighting the love, camaraderie and cohesion that these countries, large and small, had brought to our beautiful state. And …. with the other $46 million dollars Bribie Island could have won a second bridge, linking us to the mainland and securing safe travel for at least 5 decades to come! What a missed opportunity!
Kind Regards, Susan, Bribie Island
Dear Editor, I thoroughly enjoy reading your post when it arrives, great local stories, news and adds for the Island and surround. Went for a coffee down at the precinct the other day, spotted this and couldn't resist sending it in. I hope it gets published. Looks like someone was in a hurry or possibly needs to go to Specsavers! Have a great weekend,
Debbie , Bribie Island.
Dear Editor, I wish to express my shock and disappointment at the action taken by the Bribie Island RSL in issuing instructions to SES and police to not allow my decorated yellow and black vintage Austin 7 from entering the Parade on ANZAC Day 2018.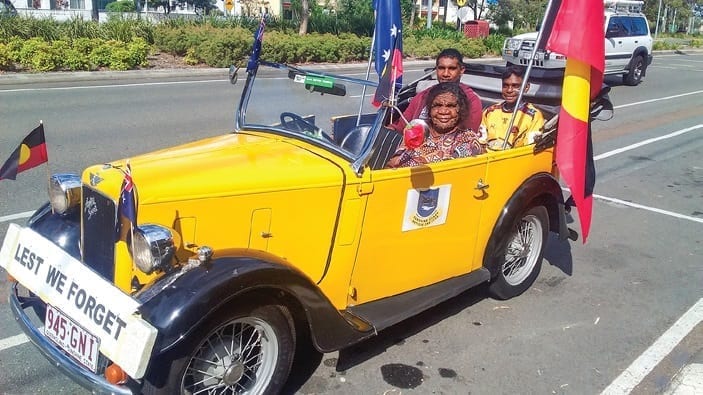 I had booked a position in the Parade with the Bribie Island R.S.L. Sub Branch Honorary Secretary (Ed Wright CSM) days earlier and I was told I would follow the cabs in the Parade. In 2015 and 2017 I drove an Australian Aboriginal Elder and Aboriginal children in the Parade. In those Parades, the decorated car was well received by the community who cheered as we passed in recognition of the Aboriginal and Torres Strait Islander efforts in the Australian military.
The car was decorated this year with the Australian National Flag, Aboriginal Flag, and the Torres Strait Islander Flag similar to previous years.
Another decorated vintage car with Aboriginal passengers was stopped from entering and was told if he took the Aboriginal Flags off the car he could enter.
He refused to take the flags off. This RSL action without any consultation has devastated the Aboriginal community. My small effort in Closing the Gap was sabotaged. The flags were supplied by Susan Lamb MP, our local Federal Politician. I felt for the Aboriginal Elder and the Aboriginal children seated in the car when the police interviewed us. How can we ever Close the Gap when an organisation like the RSL treat the descendants of indigenous Australian service men and women who fought in wars to protect this country with such contempt.
In other ANZAC Day Ceremonies and Parades across this country, indigenous contributions to military service was honoured, but not here on Bribie Island by our local RSL. (At Elephant Rock, there was an Indigenous serviceman mounted on a horse, holding a large Aboriginal Flag as part of the Dawn Service. (See 24/4/2018 Brisbane Channel 7, 6 o'clock news.)
Justin McCarthy, Banksia Beach Former CMF member, RSL member
Other Articles
https://thebribieislander.com.au/letters-to-the-editor/