CELEBRATION RATHER THAN CELEBRITY
When I was a child my hero was a film star, Stewart Granger. My husband John's heroine was the beautiful Debra Paget. Now, March 28th, 2019 we share the identical hero, our fur-baby NOUGAT. Actually, this extraordinary fan-tailed Chihuahua is no baby, as it's his 10th Birthday today. But I still call him puppy and always will and to us, he is a celebrity, the bravest of all.
Featured image(above): Those penetrating eyes
Until I met my husband, John, on 8/8/88, (you can rightly presume that 8 is my lucky number) my great passion had always been breeding and nurturing large dogs, my favourites: German Shepherds (6 over 6 decades) Afghan Hounds (2 in 12 years as a London celebrity profiler) Doberman bitch (my boyfriend's, who worked in Queensland, while I looked after his son and dog for six months, plus my 3 pharmacies) Alaskan Malamute (belonging to one of my patients, who had to abandon her, while I was running the Cairns Methadone Centre as pharmacist for Queensland Health and the Cairns Base Hospital for 10 years.)
With forgiving Tashie
One day in 2009 on our Lake Tinaroo acreage property, I ran out of fish food for my 600L mini-Barrier Reef aquarium and drove to the Atherton pet shop, instead of driving all the way to my Cairns wholesaler. They had no fish food. And that's when I fell in love again! It was definitely love at first sight! A six-week-old, fan-tailed Chihuahua was playing through the bars of his floor-set cage, with two toddlers not much bigger than himself, sitting on the shop floor next to him. John was waiting on the footpath, had not seen the little dog, but said, "Why don't you get him," when he saw how smitten I was.
So out I carried him out in my arms and immediately named him NOUGAT because of his penetrating chocolate nougat eyes. What a joy our life has been since that moment! Nougat is an Academy Award standard comedian! He has John and me in stitches all day long with his never-ending antics. The three of us were inseparable from that moment on. John would not accept any invitations or go anywhere, not even to a cinema or restaurant, if we could not take Nougat with us.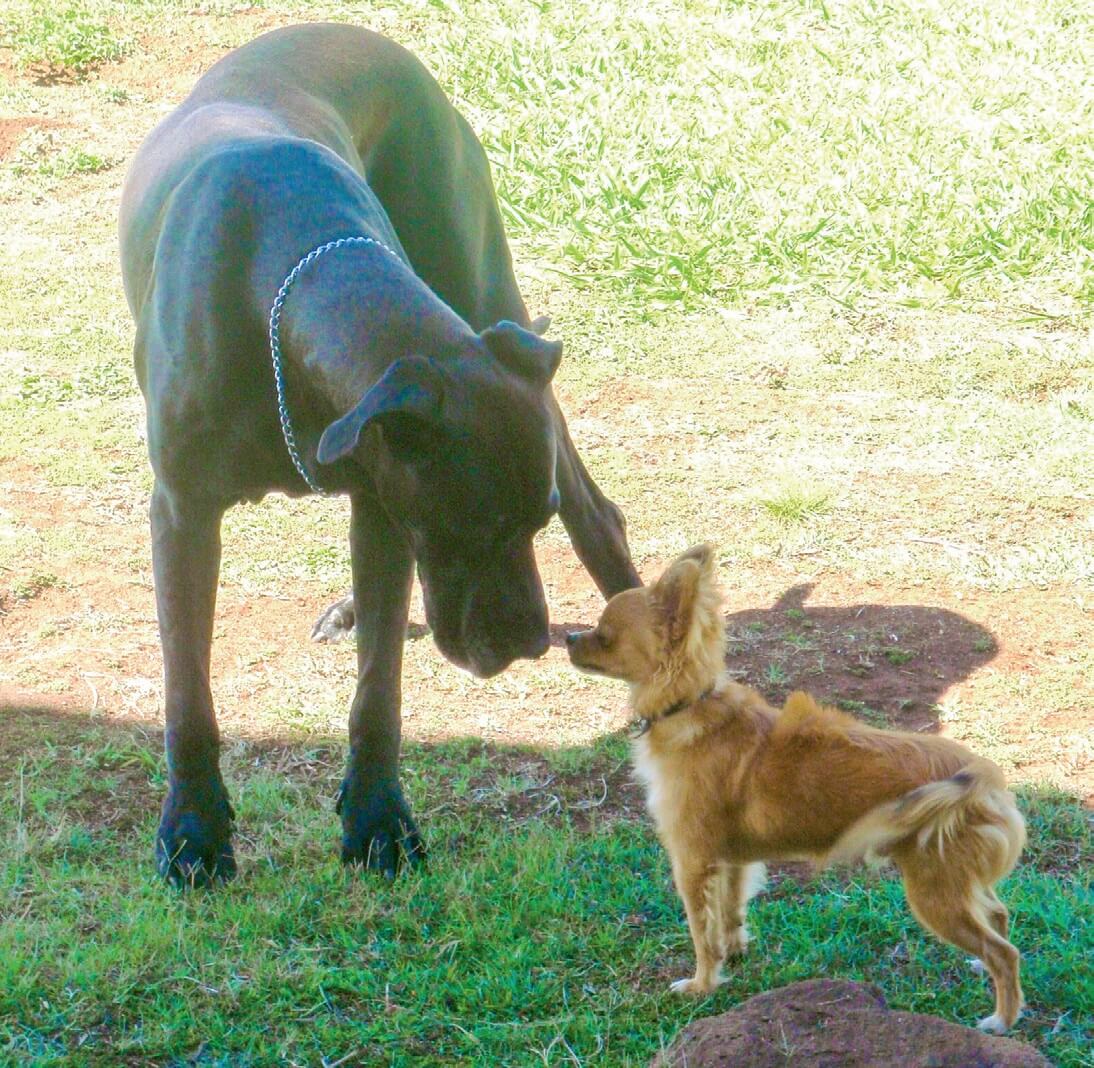 Meeting Great Dane
We were The Three Musketeers. We even had a 1st Birthday party for Nougie, where one of our Methadone Centre couples brought their short-haired Chihuahua to our home to celebrate with us. Nougat is not afraid of anyone or anything, as we took him to the back of the Methadone Centre each day socializing him from day one. We made sure that our fur-child was not going to grow up a snappy, barking and growling little dog, as so many tiny ones are. That's why I had always disliked little dogs.
But Nougat, not even afraid of thunder and lightning, which often terrified our German Shepherds, had to pay dearly for his lack of fear when he first arrived at our home on the Atherton Tablelands. He decided to eat Tashie's, the Malamute's dinner, instead of his own and within seconds had lost one of his fangs. Another one grew eventually, but it has always been less than half the size of the original. Tashie forgave Nougat's meal-steal attempt and became a great friend.
And when Nougat met a Great Dane for the very first time, he jumped right up to his head. Luckily it was the beginning of another friendship, as tiny Nougie would not even have been a meal – just a casual snack! For 5 years Nougat was a healthy, chirpy and loving entertainer until he developed an ear infection in 2014. I thought it was strange when a vet prescribed a six-week course of antibiotics. Six weeks? It made me doubt. Nougat did not improve.
Over several vet appointments during the next few weeks, even after Nougat collapsed on the floor, could not walk, stand or even raise his head, the vet assured me it was an ear infection and said to give it time. I was very unhappy and suspicious. When returning to the surgery that Sunday, the owner himself was there and a very clever vet at that. He took one look at Nougat and said, "This is no ear infection. I'll send you to the QUEENSLAND VETERINARY SPECIALISTS IN BRISBANE.
It's a hard life
I'll fax them the referral and information." "Wonderful," I answered with great relief, "I'll take him tomorrow morning." "No," he replied sternly. "You'll take him right now." It was just a few days after John had left for England on a six week family holiday. He had not seen his children, grandchildren, greatgrandchildren, sister, friends, and ex-wife for five years. So I rushed my fur-baby to the QVS HOSPITAL and within 24 hours was informed that Nougat had the worst case of meningitis, encephalitis, and body function failures. Three expert vets at the hospital were very unsure about being able to save Nougat's life. But I begged them to try.
They could not promise anything, as the condition is usually fatal within a few days or weeks, and Nougat's symptoms were showing that his central nervous system was already affected…
TO BE CONTINUED IN THE BRIBIE ISLANDER ISSUE 85, APRIL 12TH.