Tags: Bribie Island History. Queensland. Brisbane. Moreton Bay. Images. Historical
The Third annual Moreton Bay History Seminar was held at North Lakes a few weeks ago attended by representatives of many regional History Societies and interest groups. Bribie Island Historical Society was represented by President Graham Mills and Secretary Lynne Hooper, with other members assisting the display stall of historic Bribie items, photos, books and information.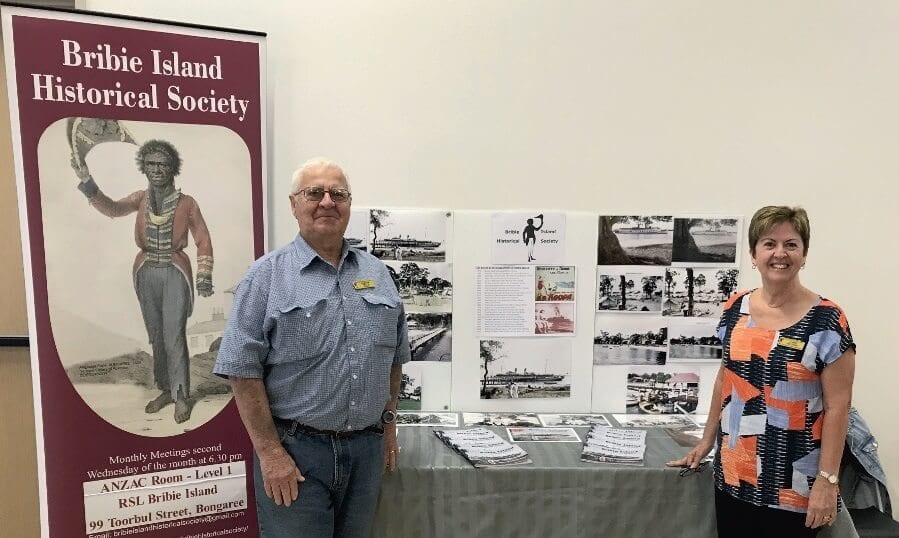 Graham Mills & Lynne Hooper at History Seminar
The material has been gathered in the Society's comprehensive Database over the past 10 years and includes thousands of historic photos dating back 135 years. Some old photos in the Database collection were "tinted" or hand painted with very basic hand painting techniques many years ago.
President Graham Mills has recently given presentations of old Bribie Postcards, some of which had been basically hand painted or coloured washed over 60 years ago, The concept of seeing old Black and White Photos in a new light took the interest of Secretary Lynne Hooper, and the display included a small selection of comparative images, using modern Photoshop techniques.
GUEST SPEAKERS
The History Seminar had three interesting guest speakers. Cara Downes from National Archives Australia presented the history of South Sea Islanders in Queensland. Often called "Sugar Slaves" these South Sea Islanders (Kanakas) were enticed or kidnapped (Blackbirding) to work on sugar plantations such as Morayfield Sugar Plantation at Caboolture and Day's Sugar Mill and Plantation at Dayboro. Thom Blake gave a presentation on the history of Deception Bay and in particular about the prestigious Bancroft family.
Dr Jennifer Harrison spoke about the upcoming bicentenary of the European discovery of the Brisbane River, which has a special connection with Bribie Island. It was three castaway convicts caught in a huge storm off Sydney in 1823 who drifted for weeks before eventually being washed ashore on Moreton Island. With the great help of the indigenous people, they made their way around the Bay and eventually crossed a "Big River" before coming to live with the natives on Bribie Island for many months.
They believed they were south of Sydney and tried constantly to walk north in search of Sydney. It was John Oxley a year later in 1824, who had been sent to explore Moreton Bay, who made the surprise finding of "White" castaways on Bribie Island. It was they who led him to discover the Brisbane River and the subsequent establishment of the Moreton Bay Penal Colony. History is not always accurately and honestly recorded and Dr Harrison suggested it was time some Historical facts be checked.
This is something the Bribie Historical Society is proud to say it regularly does, with improved access to National Library historical documents, first-hand accounts, and newspaper articles of the day.
BRIBIE IN A NEW LIGHT
Some History group displayed current activities and Bribie's exhibit was of enlarged black & white photos taken on Bribie between 1912 and 1949 with their newly coloured versions alongside. The trend to colouring vintage photos has been taken up by Bribie Historical Society Secretary, Lynne Hooper using Photoshop to bring colour to the black and white world of the last century.