The Northern Peninsula Area (NPA) of Queensland is vibrant with rich, red Aussie soil. The waters there are pure, shine an iridescent teal and are brimming with fish. Amongst the five Indigenous communities that make up the NPA is a Saibai Islander community of approximately 1700 people called Bamaga.
Featured Image(above): Lauren at the most Northern part of the continent!
Just the beginning of the adventure…
It is found on the Western side of the Cape York Peninsula. It is here in Bamaga, that one of our very own local community members Lauren Watson, spent four weeks adventuring, student teaching and learning about the people and land of this special place. Loving, loyal, compassionate and driven are just some of the ways you could describe Bribie local-ite and soon to be teacher Lauren Watson. Watson has lived in the Bribie region with her family since she was four years' old and has been an active member of the community through school, work and volunteering as a surf live saver.
Lauren and the natural landforms of the NPA
In her downtime, she loves anything active and especially enjoys spending time at the beach with her dog Frankie and her sister, Kate's, dog Archie – Kate also happens to be living in Bamaga as a teacher. It is easy to withdraw a sense of pride and determination about bringing education to those in remote areas when Lauren speaks. This determination has seen her travel to rural areas of Queensland that are in need of quality educators like Bamaga and she is currently completing her last practicum in Murgon before graduating. Lauren comments on education in general: "There is such a focus is on academics and achieving, great scores and/or representing your school in sports that we forget about the kids who are struggling just to get to school".
Proud to be a part of Bamaga's school community
"In Bamaga there is a massive social disadvantage for a lot of the kids… getting them to school is a massive achievement. It was confronting, sometimes I'd get to school and there'd be three students in the class because they don't see the importance of education or don't feel supported enough [to attend]," Lauren said. Lauren explained that though a student herself, as a teacher, it's not always a reflection on your ability but more what the students are coping personally with. "There are a lot more challenges that they face and I have to be able to get past my own challenges [in order to teach]." Apart from the struggles of attendance and participation, there were a lot of positive experiences that Lauren had in her adventure up North.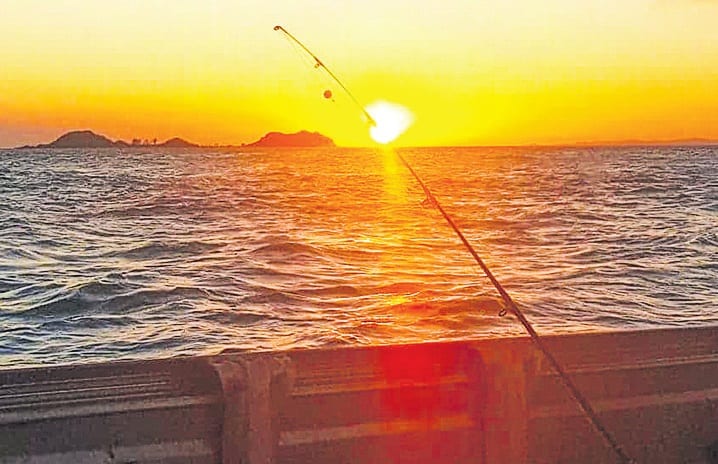 Sunsets and fishing, Australian bliss
"There were a lot of beautiful moments with the kids. We did a three-day, two-night hike in the bush as a team leadership camp," Lauren said. The first day was a six-and-a-half-hour hike which saw Lauren and the students enter camp well past dusk. They carried all they needed on their back and camped wherever saw fit. The next day they trekked into Punsand Bay which saw the lot waking up on the beach and catching the sunrise. Over 24km was hiked in general. Here she got to know the students a little better and was impressed by their heart's pursuits.
"Quite a few students wanted to be engineers, work in the defensive force or represent in sports. Many were exceptional drawers," Lauren said. "It was worthwhile just to find out what the kids love." "I suppose the kids taught me a lot of things about myself too. Like family values, which I hold really important and they do too". "The kids respond really well to their elders, family members and local teachers. A big part of their culture is really community-based so when there is a wedding or funeral the whole community shuts down. If you're driving past you either have to stop altogether or go slow." Lauren also was able to attend the 2018 NPA Cultural Festival which joined the five NPA communities together in traditional food, song and dance.
"Everything was right by the ocean so there was so much fresh seafood", Lauren said. "The dancing was amazing. Both the males and females and the kids. Everyone was just so happy and there was this contagious energy. Some of the elders came and danced with the kids and it just felt really genuine. Everyone just stopped and respected each other," Lauren explained.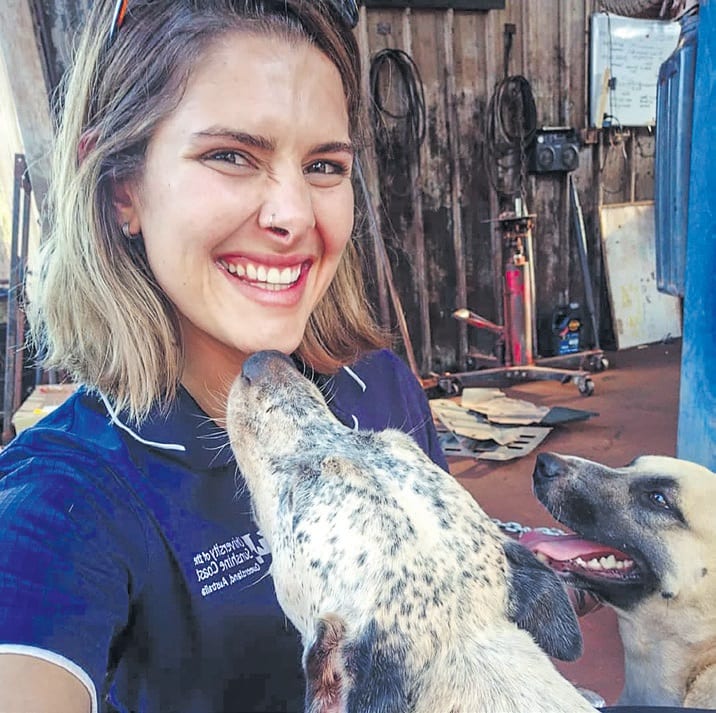 Donning USC's shirt and being consumed by puppies
All in all, there were some barriers and challenges Miss Watson had to face as she encountered a new community, but she overcame and has made beautiful memories with the students and teachers in Bamaga to show as a result. "I can't even describe it, it was just a whole different experience," Lauren said. Lauren is well on her way to graduation and therefore teaching in rural and remote areas and has been offered a job teaching in Bamaga. Well done and keep going, Lauren!
Other Articles