Tags: Bribie Island. Tourist destinations in Queensland. Brisbane. Australia. Travel
It was 15 months ago that we embarked on our adventure around Australia, rented out our house in Mapleton, bought a rig, lived on the road for all that time, and now we were on the way home. Ginger was eager to get back to school, Richard was sick of flying all over the place for work and I was looking forward to a larger painting space. I thought I would have heaps of time to paint on the road, broadly underestimating the time we needed for packing up, traveling and unpacking, not to mention the time it took to find our way around a new town every week or so…
Featured image(above): Ginger at Woorim beach
For Richard it was even more hectic, as he would often return from work in Brisbane, just to pack up and move us on to the next destination. We did some serious soul searching on the trip, to see if we would fall in love with an outback farm life, or be soaked up by the 'Good Light in Broome' but nothing came even close to Bribie Island. We still loved our house in Mapleton, however, we wanted to be closer to the beach, and with our little holiday unit at Woorim, we felt it was the perfect spot to put down roots.
Still, we would miss all the adventures of living on the road and were lucky to squeeze in a few more places to visit on our way home. By now we were traveling in tow with the Rocket, which made for an interesting picture, contrasting the huge Dodge pulling the rig with the little sporty Rocket following or zipping ahead. Leaving Port Stephens behind, we were heading to a place called North Haven, staying at a caravan park where kangaroos were mowing the lawn right around our table!
Ginger and my mother at Bongaree
This little village is situated next to Laurieton in NSW, being the home of the amazing North Brother lookout with views to die for, expanding over the whole inlet. Further up the coast, we spent a few more nights in Yamba, at the caravan park where we originally bought our rig, before we finally arrived at Bribie! We could not believe how much the place had changed, with more people, shops and housing.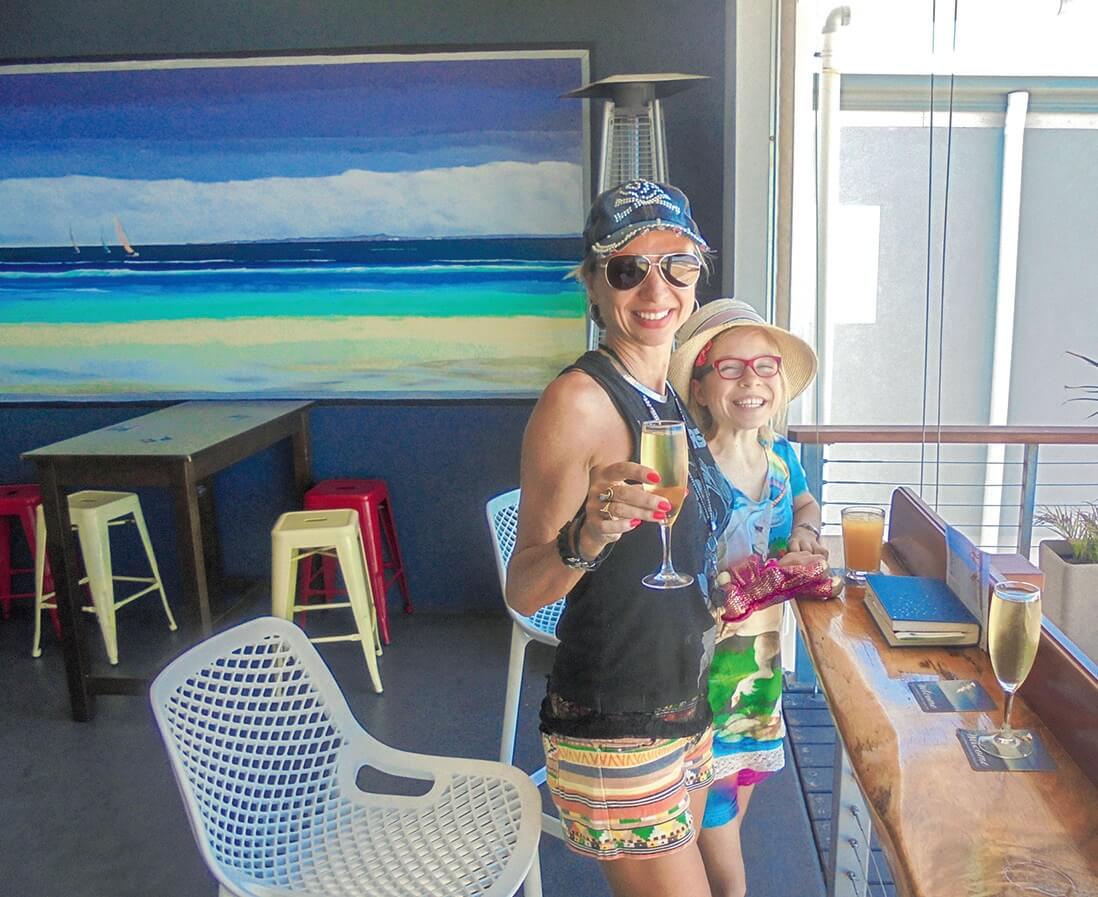 Arrival celebration at Woorim surf lifesaving club
Luckily Woorim still had a touch of the sleepy fishing village we fell in love with when we bought the unit years ago. Scoring the last big spot at the local caravan park, we had to reverse around the roundabout, blocking the exit for ages, until we finally fitted onto our site. By then we were exhausted and looking forward to moving into our little fully furnished three-bedroom unit on the beach…or at least that was how we pictured it.
Soon it dawned on us, that we totally underestimated how long it would take to empty the van! It turned out that although the unit has three built-in robes; we had more stuff in the 5th wheeler than what could fit into the unit!!!! This meant more running around, buying cupboards and getting quotes for further storage solutions… The one thing I was really looking forward to was a toilet in reachable distance, without having to get fully dressed, take a key, a torch, remember a number, turn up when they are closed for cleaning, or missing the flush…or the roof…
The Rocket and the Dodge
Needless to say, it was the first thing that broke down and we had to use a bucket! Leaving us with no other option but to start hunting for toilets and plumbers just to be advised by the 'lucky last plumber' we found in November, that only a linked toilet will do. Having checked out those dinosaurs and armed with the measurements, I decided on a better-looking toilet. My God you should have seen the plumber – he did not jump for joy I can tell you! He screamed out in agony that he told my hubby only a linked one will do all the others are too much work to install!
What can I say… except … that this was the only toilet they had left… He thought for a while and then told us, girls, he had to go for lunch and will try his best when he returned… Voila, three hours later we had the toilet installed! But that was not all that awaited us in the unit, and on our first night in our cosy abode, I decided to cook up a storm, yet the stove caught fire instead and I nearly flambéed the whole unit!
Out went the old stove with its spiral cooktops and once again it was time to drag our tired worn out bodies to go shopping including for an electrician – I mean it was the end of November, close to Christmas with those indispensable tradies either flat out or already in the holiday spirit. Luckily we found Damien, who finally installed the new stove and repaired our hot water system, which, I forgot to mention, did not work either… On the flip side we had a gorgeous balcony to debrief on all our problems, never mind that the wire door had rusted closed and could not be opened anymore without finding yet another specialist who felt sorry for us and squeezed us in to fix our dilemma.
To top it off we also needed a new carpet, new curtains, school uniforms and a bed for Ginger… Richards's work meanwhile was meant to slow down but instead fired up and Ginger started her school at Banksia Beach enjoying every last day. Walking across the road to school from our house in Mapleton was a faint memory, and instead we had to switch to the stressful chauffeur routine.
Kangaroos at North Haven
As you can imagine I was pretty frazzled on her first day and after parking the car, we were about to cross the road, when I was told off by the Lollypop lady: "Wait for the whistle!" Already in the middle of the road by then, and intensely watched by all those waiting cars, which made me feel even more confused, I turned to her and said: "I don't have a whistle?" I thought nobody whistles in Austria before they cross the road… Ok, I got the gist in the end, and from then on I just reverse parked the Dodge in the car park instead of facing the whistle.
But even after school finished we were still dashing around like headless chooks, back and forth to Mapleton picking up more of our belongings, and getting the unit up to speed for my mum's arrival on the 12th of December. So that's it! All over! We had no time to be nostalgic, as we were so dam busy we just hit the road running. It was not until I started to write the articles that we finally had time to reminisce about our trip! But let me tell you there is one more story waiting for you and that is when we take my apprehensive mother with the rig to Fraser Island!