Tags: Tourism, travel, Australia. Darwin. Northern Territory
After being stranded at the Bungle Bungles and time to do repairs at Kununurra, we were finally on our way to Darwin. However not without a stopover at Katherine, where we embarked on a fantastic canoe trip up and down the Katherine Gorge. Ginger, not being a sporty spice and rather uncoordinated with paddles, got a lift in Daddy's canoe. And occasionally I hooked mine up as well, making sure hubby got a good work out, while I was blissfully contemplating those huge steep cliff walls majestically moving past us.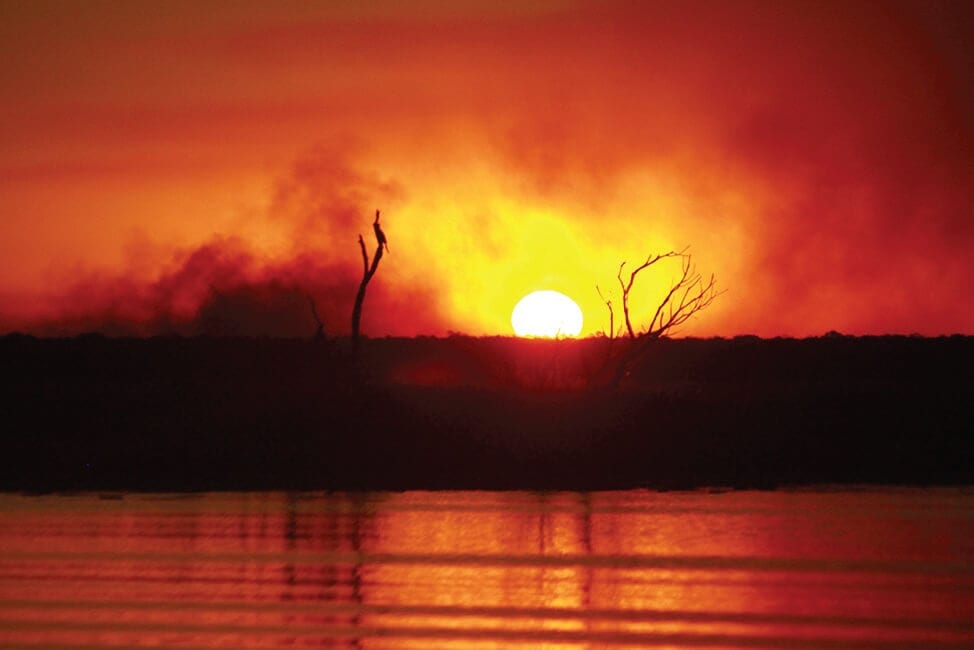 Sunset at Kakadu
This was topped off by an afternoon watching a horse and dog training show with the fit lads ending up standing on top of a horse and strumming a guitar at sunset. I was thrilled at the chance to dress up in our checked shirts with cowboy boots and hats, all to Ginger's dismay who felt that we were like an overdressed act with nowhere to go… But on the go we were, and all of a sudden the dust and outback gave way to tropical greenery when we finally arrived in Darwin.
Berry Springs
We were surprised at all the lush colour and humid weather making us reminisce about Bribie! And like Bribie, Darwin is very clean and neat and has lots of wonderful free activities like water parks for kids, manmade lakes to swim without crocs, walks, lookouts and museums just to mention a few. Alternatively, if you want to part with some cash you can go on a harbour, river or crocodile cruise, helicopter flights or muster a handsome cowboy at a rodeo.
Canoeing at Katherine Gorge
However, the one thing that is burned in my mind is the love, hate relationship between Darwin and the 'Crocodile'. As soon as you arrive you become part of the wave, with one side of you going through all sort of lengths to see a big scary crocodile close up, and the other side constantly observing signs like 'Don't go in there!', 'Don't swim here!', 'Don't stick your finger into that…. or the croc will get you!' Signs like that can be found at the amazing Berry Springs, offering three huge pools filled with warm turquoise water along a river, heaps of room to float your noodle even at the busiest of times except… if a croc decided to have a float as well!
Outback show
As luck had it, the Springs just re-opened after a crocodile was found lounging about, eyeing off the juicy locals and tourists, until it finally was caught a week later. We spent six weeks in Darwin and surrounds, and our favourite caravan park was close to the city centre at Howard Springs with amazing pools, grassed sites and tall shady trees. Ginger made friends the minute we arrived, while I and the girl's mother Jennifer formed the 'Bar' as we called it – sitting around in a circle at sunset with a handful of neighbour caravaners, exchanging experiences and laughs over a wine or two.
Table on Waters Edge
Nevertheless, the possibility of kissing the lawn, once legless, made me keep a lid on my usage of the grape. Nevertheless, fluid was in hot demand as it was the hottest winter on record with daily temperatures reaching 35 degrees, which gave the aircon in the van a rather good workout. One morning I even got woken up with a nice cold dripping rain installation from the ceiling. As usual, when disaster strikes, Richard would be back in Brisbane leaving it up to me to dig out a handyman. Handy he was, telling me its just condensation and not worthwhile him coming around!!! Never mind… I struck luck second time around and the rather sleek aircon specialist fixed the blocked ducts just in time before we ran out of towels and buckets.
The Bar
Just as well, as we had to be ready for Grandma and Grandad's arrival, who Ginger persuaded at their sturdy age of 89 to jump on a plane in Melbourne and visit us for a couple of weeks in Darwin. Carol and Harry arrived in good shape and in the next few days we covered Litchfield park, swam in some amazing waterholes and even drove through a roadside fire. Then it was time for some city legwork and Ginger as usual forgot her shoes for the all-important museum visit. Richard told her that it was her problem and that she had to talk to the lady at the desk, who looked at Ginger with raised eyebrows and said….'Well its Darwin after all' and so she got away with it… But one of our favourite activities was the virtual reality show of the 'Flying Doctors visitors centre' at the wharf. It was riveting and very scary, as one was viewing the Darwin bombing with special virtual reality goggles.
Holding on to your seat, while you moved through flying parts and bombed out ships, going up in the air with a fighter pilot, just to get bombed out of his plane, tumbling and plunging back down to the oil inflamed sea and slowly sinking to your death… I still felt motion sick for most of the dinner on the wharf and gave the wine a miss. However, this was not our first time on the wharf, where you can sit at your table suspended a few meters above the water level without railing, and watch the huge fish swimming and feeding below, all in the shade and balminess of Darwin city.
Another good place to get some multicultural cuisine is, of course, the most famous Mindil market, offering endless varieties of takeaway meals, while you are entertained by fireeaters! Although this is the end of this episode, I hope you can join me for the next one, when we get back to the dusty outback on 'The Long Way Round To Bribie'!
Other Articles