Tags: Tourist and travel destinations. Queensland. Australia. Bribie Island
THE LONG WAY ROUND TO BRIBIE! – CLAIRVIEW
By Sabine Von Graz
Hi there, here is just a quick rehash in case you have missed the first episodes from 'The Bribie Islander'.
My short stories are all about our family, Richard my hubby, Ginger our daughter and myself, going on a 15 month trip of misadventure in a "big rig" around Australia, on a mission to find the place to call home. Leaving behind the civilisation of Agnes Waters and Kinka Beach, we were once again heading north.
On the Bruce, halfway between Rockhampton and Mackay, lies a tiny sleepy village called Clairview, which is sandwiched between the beach and the railway line. One of its main attractions is 'BarraCrab' the caravan park, shop and local pub all in one and that's it for Clairview ….ah..except for a red phone box!
However it has charm, with its endless planted bougainvilleas in white tyres along the railway line on one side, and the bold turquoise water dotted with Mangrove trees on the other side of the village. Actually, it was quite spectacular when we arrived at BarraCrab and for the first time had a look through the entrance of the pub.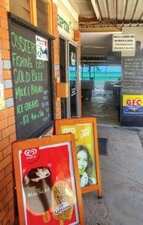 BarraCrab Pub(left) and Sabine's Dad (80), running at high altitude marathon in Austria(right)
The interior was hardly visible as you were blinded by that UV filled 'Cobalt Green Turquoise' water, like someone, turned on a light at the other side of the building. This vista reminded us of the Surf Club at Woorim, when at a certain time of day you are left speechless by the colours.
Our outback vibe emerged and we chose an unpowered site on the vast land, away from the cabins, where we could overlook the amazing repetitive sand formations, and watch the fast high tide come in over the rocks. The spot, on a slight hill, had something wild and rugged about it and we were glad to have our bikes to ride to the amenities block, as it was quite a hike.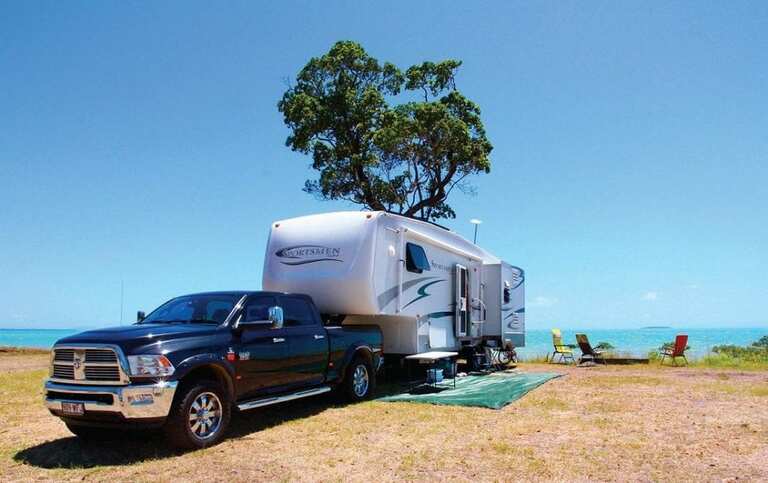 Caravan Spot
This, however, did not go unnoticed by the local Magpie, which couldn't help but swoop along the desperate female rider (me) who was with a full bladder bouncing over rocks or getting bogged in the sand, while trying to get to the loo. After all that excitement, we decided to have our first dinner at the pub, a very versatile facility- being pub and camp kitchen all in one, which meant that you could cook your own meal in the camp kitchen/pub, however NOT drink your own glass of wine to go with it!
No skin off our nose, as we were there to splash out that night, supporting the local and as per instruction ordered our meal a couple of hours earlier. This was to ensure that the one and the only chef could get everyone their food before they passed out. We were in need of an 'after dinner walk' when we found a dead snake on the beach, which brought up the topic of how to get my Dad 'Australia ready' when he would arrive from Austria.
As 'Explorer Ginger' pointed out she saw heaps of deadly cone shells in those Mangroves, which brings us to rule number 1 for my Dad – No picking up shells on the beach or swimming with sharks as they can have a serious nibble. In comparison, the Crocodile will eat most of you (only spits out the dirty bits I was told by the park owner)…
Sand Dunes
No meandering around rocks barefoot, in case there is a stone fish, nor picking up little baby octopus for dinner in rock pools, especially if they produce blue rings! And if he finds a spider or other venomous insects in his tent, then best to collapse the tent to trap them. And not to forget to pack some nylons from his girlfriend to keep him safe from those nasty jellyfish. However, he needs to remember one thing above all!!!!
Mangroves
Don't run when a snake bites you! One needs to stay calm, study the pattern and observe the colour. If it helps turn it around to see if it has a red belly…if it does…. change tack and run! As short as our 2-night stay was at Clair View, it was a corker and we are planning to come back with my Dad as 'BarraCrab' just has 'the (Australian) vibe'!!!!!
Other Articles
https://thebribieislander.com.au/touring-australia-woodgate/