Tags: Beach Artist. Art. Bribie Island
INSPIRATION WORKS BOTH WAYS
Photography by Kathrin Dierich & Liz Palmer
During a recent chat with increasingly well known local beach artist Trevor O'Dwyer, he revealed that seeing people admiring his beach huts and walking in and out of them is really uplifting and this is a feeling that I imagine will form some of the inspiration for Trevor to undertake his next project, whatever that might be. Well, Trevor, as it so happens, inspiration is a two-way street and whilst the reaction to your structures has had a good effect on you, I have been told that your work has provided a great deal of inspiration to those who have seen them, especially children.
Some of the driftwood branches weighed more than seventy kilograms
In fact, local mum Liz Palmer has informed me that her children have even made huts of their own. You did mention that you built the R Crusoe Hut and the Jeffery Shack for Bribie Islanders and that is exactly who is getting the benefit. Trevor has been responsible for the construction of two huts on the beaches at the Southern beaches of Bribie Island, one (the R Crusoe Hut) at Red Beach and another (the Jeffrey Shack) further around at Woody Bay.
He said that the urge to build the structures came when during a walk along Red Beach, he noticed that a large amount of driftwood was either getting washed away or covered over by the sand. I began by turning the large branches upside down, digging them into the sand about half a metre and binding the roots together at the top to hold everything in place,' Trevor explained. 'Some of those pieces of driftwood were really long and weighed over seventy kilograms,' he said.
The swimwear shoot at the R Crusoe Hut that sparked Kathrin's curiosity
This was of course how the R Crusoe Hut came to be built and Trevor recalled that this project took him nine days to complete. Back home after having completed the Red Beach hut, Trevor began to realise just how enjoyable the experience had been and so, equipped with a strong sense of motivation, he packed up his gear and headed back out to commence the Jeffrey Shack. Being a bigger structure than the R Crusoe hut, this project was to involve a full two weeks of toil before it reached completion and the self-proclaimed beach artist told me that there is a degree of special to the shack.
'My mum has Lupis of the skin and my thoughts when building it was that it would provide shelter for her if she went to the beach and my father has taken her there,' said Trevor. The name of the shack was inspired by a song that I heard about someone whose life had reached rock bottom and the struggle to get on top of everything. Jeffrey was the name of the song,' he added. Since the completion of the structures, many of those who have visited them have added to their appearance by hanging shells and pieces of coral to them. There has unfortunately been some damage done to the Jeffrey Shack recently due to some uncaring individual/s showing complete disrespect to the structure.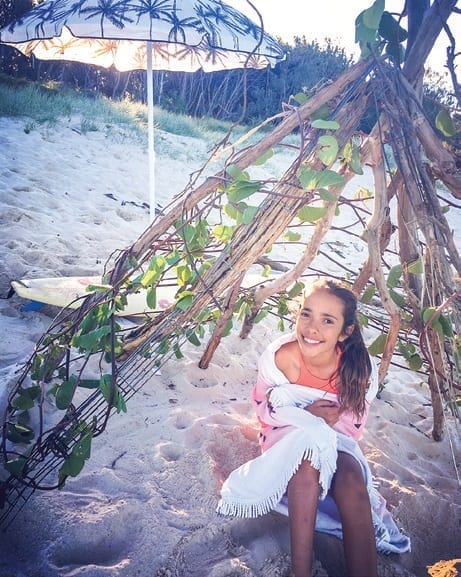 Maddy Palmer designed and built this cute tepee
Originally from Zimbabwe, Trevor and his family are actually residents of Toowoomba and, after several years of coming to Bribie Island to visit friends, they purchased a unit on the island almost three years ago. Trevor told me that, when he was a child in Zimbabwe, he would often go up into the forest to build forts and later on, flying foxes and tree houses. He pointed out that whilst he has always been a lover of the outdoors, his younger brother who had at times helped him with his Zimbabwe hobbies, was more a fan of books.
Spending time in the Jeffery Shack
Another rather interesting part to the story of Trevor O'Dwyer and the beach structures began when well known Bribie Island photographer Kathrin Dierich headed to the beach to undertake a photography session for a swimwear brand. It so happened that Kathrin had chosen Red Beach for the project and as it happened, had found and then featured Trevor's R Crusoe Hut in the session.
We built one too – Locals were inspired by Trevors creations
Natural curiosity obviously got the better of Kathrin and this resulted in her putting the call out for someone to provide her with the hut builder's identity. She had posted the request on Facebook community pages and said that she would offer the beach hut builder a free photo session. According to Trevor, he was on the beach one day when a woman who he had previously seen but never spoken to gave him a newspaper article about Kathrin's search and said that he really should contact her.
I guess that as they say, the rest is history. From that time on, Trevor has become a lot more well known on the island and has even been interviewed by the ABC. Whilst I am aware that if Trevor had his way, he would rather not all the publicity that he has recently received but I have to say that as far as I am concerned, I regard it as a privilege to have met this very talented and laid back creator of driftwood structures and hope that his desire to build kicks in soon. Thanks, Trevor, the Bribie Island beaches are an even better place because you chose them as the setting for your creations.
Other Articles
https://thebribieislander.com.au/bribie-island-community-arts-centre-art-display/