Tags: Blue Pacific Hotel beer garden. Local entertainers. Musicians. Singers. Bribie Island. Local bands. Caboolture
Locals Only
Another successful Locals Only Show was had, at the Blue Pacific Hotel beer garden with just about every act in the running for Performer of the Day. There was a great variety of different acts, including a surprise performance from Bribie High School's Kayleigh Marvin, who had a bit of a sore throat from rehearsing an opera in which she was performing the following day.
Featured image(above): from left Peter Orr, Lonesome Dave and MaryAnne Cannon, and,
obscured, Gentleman John Girgenti on drums
This wonderful and very talented young lady is destined for a career in the entertainment industry. Later in the day, she surprised everyone by performing 'All That Jazz'. Kayleigh was awarded the Locals Only Outstanding Achievement award during the afternoon. The other highlights from the day included Mickey H's 4 On The Floor band, and what a great performance from these guys. Mick, and bassist, Johnny were members of the very first band to appear at Locals 10 years ago.
The return of Frankie Lennon, and the performance by Janine Williams, MaryAnne Cannon and Kayleigh Marvin together was just beautiful. The organisers at Locals cannot express their gratitude enough for the generosity of the Cool Coda band for the PA system, and Matty Knyvett for a truly excellent job at the controls.
Cool Coda will be appearing at Blueys on July 8th. You really need to see these guys. In other music news, Mick Early and the Doodads will be appearing at Sticky Fingers (behind Mayaada Bazaar) in Bongaree. MaryAnne Cannon will be appearing at the Bar & Grill, Bongaree on Mother's Day from around lunchtime onwards.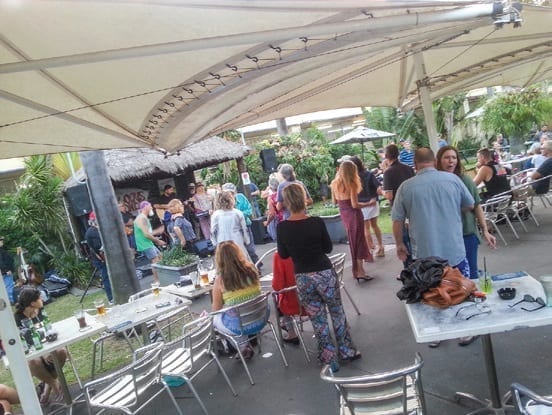 Great crowd at the Locals Only Show.
Finally, Locals Only would like to thank and acknowledge the hard work and musicianship of Keith Haigh as he moves on to more music projects. He'll be sorely missed at Locals and his input and support for the last 10years have been invaluable.
Keith has brought many of his music students to the Blueys stage. We wish him well in his new endeavours. Next Locals Show is 27th May featuring TJ Mack, 4 on the Floor, Erin May and Dan Burns. See you there.

Other Articles
https://thebribieislander.com.au/local-musician-sings-at-local-hotel/
https://thebribieislander.com.au/local-music-band-event/