Tags: Local Music Event. Music. Local Entertainers. Shave for a mate fundraiser.
WHAT A DAY!! – Local Music Event
After a few nervous days waiting for the weather to improve, it was decided to call off the February Locals Only Show at Blueys. As it was put to us…"It would be much more preferable to hear 'the Boys Light Up" than to see them do it. "
The ground was quite soggy underfoot and there was more rain predicted. We'd like to Thank the Locals Only community for turning up to the 10th-anniversary celebration. It was wonderful to catch up with folks from the past and see some new artists as well. As there's no real news to report, except for Ryan Kennedy's dreadlocks, We'd like to Thank some of the sponsors who have kept us going over the years.
It's the attitude that they have towards the community which is so gratifying. Last month's show featured the return of one of the original 'poster boys' from the past. Brodie Blank, songwriter, beatboxer and singer returned to the stage after a long absence.
We're told that he has a whole bunch of new material and is going to perform at the next couple of Locals Shows. The March show will include the 'Shave for a Mate' fundraiser for a long time Woorim resident who has been having a tough time of it over the past few months.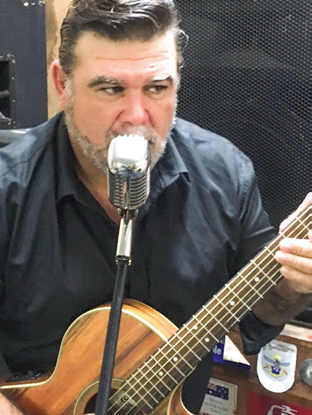 Jack James
"It is very encouraging to notice that some of the local music identities are working on presenting more music on Bribie Island. The emergence of a jam session at Bongaree, hosted by Dan Burns and another in the planning stage hosted by Mike Early are just a couple of things in the works. Keep watching this space for more information as it comes to hand."
The next show is 25th March at the usual time 1pm-5pm.
UPCOMING EVENTS
2nd March ……….. Award winning duo, Dreadlock Cowboy…very popular.
5pm-9pm
9th March ………… Fabio Tolli. This is a much-anticipated event. Back by popular
demand. 5pm-9pm
16th/17th March .. Jack James. Friday night, 5pm-6pm
St.Patrick's Day, 2pm-6pm
23rd March ………. Dave Lynch Jr. Everybody's favourite entertainer, 5pm-9pm
25th March ………. Locals Only Show. Bribie's best singers, musicians, and
entertainers. (including the 'Shave for a Mate' fundraiser).
1pm-5pm
30th March ………. Wings of Fleetwood. MaryAnne & Keith present their show consisting of the best of Fleetwood Mac and Sir Paul Mac, 5pm-9pm.
Other Articles
https://thebribieislander.com.au/lawn-bowls-club-sport-ages/
https://thebribieislander.com.au/the-sensory-movie-day-group-aspergers-autism/
https://thebribieislander.com.au/local-events-medieval-festival/
https://thebribieislander.com.au/international-womens-day/