Tags: Cameroon. Travel. Local news Bribie Island. Volunteers
TWO MONTHS AT CAMEROON
When retired nurse Mary Olive left Bribie Island to begin a two-month visit to Douala in Cameroon recently, even though the time was to spent on board a 152-metre ship, she was not going for a holiday.
The ship that Mary has gone to join is the Africa Mercy, a vessel that is best described as a very large floating hospital which visits several African countries each year, providing otherwise unavailable surgical care that includes treating head and neck tumours, hernias, cataracts and burns as well as other severe conditions. Mary has volunteered her services and will be working as an admissions nurse and she told me that she will be a part of a team consisting of three nurses and two doctors.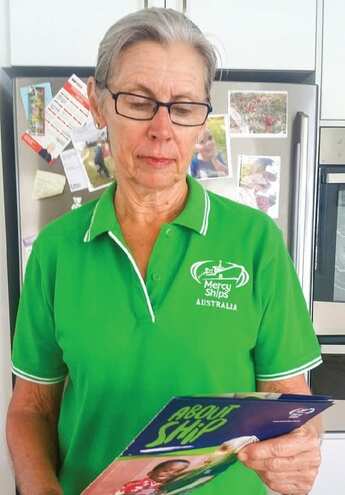 Mary Olive reading up on the work of the Africa Mercy
The Africa Mercy features the same facilities as a medium sized hospital with five operating theatres, an intensive care unit, an ophthalmic unit and a recovery unit. There are beds for eighty-two patients and as well as physicians having the services of an on-board pathology laboratory, they are able to consult with pathologists in the United States via satellite communications. For the convenience of the 450 volunteers who are responsible for all aspects of the ship's operation, the Africa Mercy has a small supermarket, a library, a laundrette and a restaurant.
Also on board is a school for all ages through to the final year of high school, a daycare centre and a gymnasium. 'I really don't know what to expect when I get there and I am going with no preconceived expectations,' Mary said. 'This is something that I have wanted to do for quite a while and I am looking forward to being able to help with this service. In Cameroon, the population is over twenty-three million and there are only eighty-three trained surgeons along with twenty anaesthetists so the work that is done on board the ship is absolutely essential,' she added.
The Africa Mercy will be Mary Olive's home for the next two months
Mary also explained that the Africa Mercy will remain at the port of Douala until June when it will go for its yearly service. The willingness of Mary Olive to dedicate two months of her time in order to be of help to others is just one more example of the wonderful spirit of those who are a part of the Bribie Island community.
Other Articles
https://thebribieislander.com.au/not-profit-training-facility-bribie-island-bribie-u3a/
https://thebribieislander.com.au/life-saving-surf-rescue-queensland/