Tags: Boating, camping, and fishing. Tourist destinations South East Queensland. Fishing spots. Fishing. Tide Times
ON THE WATER WITH VIN DONOVAN
From when I began the "On The Water" series, I have told the story of a number of dedicated sailing and paddling enthusiasts who spend their leisure time enjoying the waters that surround our beautiful island but as yet, I have not mentioned any of the countless locals who use boats that do not rely on wind or the strength of their arms to get to where they want to go.
This month, I intend to rectify that situation with an article about one Bribie Islander who not only loves the water and the environment around us but is also not too bad at catching fish as well. Talented handyman Vin Donovan has had a love of all things that are related to boating, camping, and fishing from the time that he was very young and he told me that his family has been associated with the island for many years before he was born. Vin got his first boat at the ripe old age of ten and he explained that as a teen, while all his mates were going out to movies and clubbing, he always preferred to be out in his boat or camping somewhere.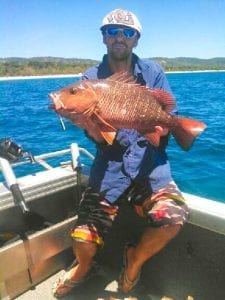 Vin Donovan knows where to catch fish like these ones.
'The ocean and fishing are more or less like my second wife and I am on the water three or four times each week,' said Vin. 'As a matter of fact, the boat that I own at the moment not even five years old and it has done over 1,800 hours. I go to Moreton Island quite a lot and also spend a fair bit of time in Pumicestone Passage,' he added. Vin explained that whenever he goes fishing, he places a lot of importance in understanding the science of the sport and he said that he always considers factors such as the phase of the moon, the direction of the wind and tide before deciding where to go and what species to target. 'I have about fifteen hundred spots marked on the GPS,' said Vin.
'No matter when I go fishing, I can always fill the esky and I often give a fair few fish and crabs away to neighbours and friends,' he said. Vin is a family man with two young children and he told me that they feel the same about being able to enjoy the outdoors as he does. He feels strongly about protecting the environment and says that his lifestyle is all about being able to get back to nature.
'We live in a place with a great backyard so it is up to us to look after it,' he pointed out. In keeping with this policy, Vin said about how nothing from his fishing excursions goes to waste. He described how he uses the fish frames as bait for when he goes crabbing and makes a healthy broth out of other parts of the fish such as the head. Prior to taking on his current role of a multiskilled handyman, Vin was employed for fifteen years in the fishing, camping and boating industry and for some time, was the manager of a large outdoors retailer. Along with his love of nature and the environment, Vin is a firm believer in living a healthy and rather old-school life.
He has never had a cigarette and does not own a computer or have an email address or Facebook account.
On the subject of protecting our fish stocks, Vin said that he is convinced that it is not the commercial or recreational fishing population who do the damage and feels that the problem is mainly caused by pollution from toxic runoff.
After spending time talking to this man who is so obviously passionate about all things Bribie, I came away convinced that this is one local who will never be guilty of damaging our island or letting technology spoil what in many ways seems to be the best lifestyle in the world.
For Vin's tips on where they're biting, go to our fishing report
Tide Times
Click here to see Bribie Island Tide Times
Other Articles
https://thebribieislander.com.au/fishing-south-east-queensland-and-moreton-bay/
https://thebribieislander.com.au/love-for-bribie-tourist-destination/
https://thebribieislander.com.au/bribie-island-fishing-1/