When Brisbane residents David Bycroft and his wife Wendy were planning to take their grandchildren Oscar (five) and Connor (seven) on their first ever fishing adventure they naturally chose Bribie Island as their destination of choice. David says they all had a very exciting time, hiring a pontoon boat and heading out into the passage to try their luck. "It wasn't long before Connor caught his first fish.
Featured Image(above): Connor and Oscar proudly admiring their catch
But we don't know what kind it is," said David. The Bribie Islander has asked around and to the best of our knowledge, we can inform the Bycrofts that Connor has indeed caught a type of Leatherjacket also known as a Triggerfish. (Readers if you disagree let us know). Grandpop, as David is known by his grandkids also said that young Connor caught a bream and a stingray later in the day.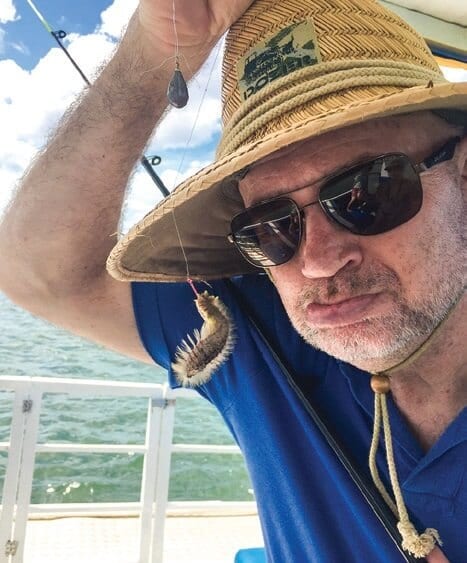 Grandpop Bycroft unimpressed with the grub he hooked
And if the grandkid's first fishing adventure couldn't get any better they also saw a Dugong! While Connor scored the catch of the day the same can't be said for poor Grandpop who only managed to hook a grub! Better luck next time David. "What a great day we all had and we'll definitely be returning to Bribie to try our luck again," said David.