Tags: Tourist Destination Queensland.  Kids amusement rides. Trains. Model Engineers and Light Steamers Association. Mini train rides
THE TRAINS DON'T COME TO BRIBIE
Yes, that's correct, the trains definitely don't come to Bribie Island but, that doesn't mean that you will never see a train making its way along a track right here on the island. As a matter of fact, on the third Sunday of each month, you will always see a train if you visit the park next to the Bongaree Sports Club on Toorbul Street around midmorning.
The initials M.E.L.S.A. stand for 'Model Engineers and Light Steamers Association" and the members of the local club are keen enthusiasts who operate the mini-train rides for the enjoyment of both locals and visitors alike. The idea for MELSA club on Bribie resulted in Bob Loseby, Dick Steel, Eric Richards, Hugh Bull, Roy Milner and Merv Hall forming a steering committee in 1981 to coordinate the project.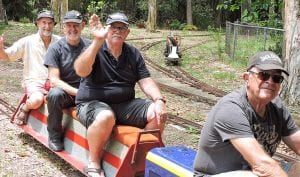 MELSA Club members having fun
Successful lobbying resulted in the fledgling club receiving a $100,000 grant with the conditions that the project had to be completed in one year and work had to be carried out by people who were at that stage unemployed.
I recently had the opportunity to meet up with current MELSA members Col Farrell, Phill Grant, Dave McIntyre and Les Young who kindly offered to tell me more about the club and these meticulously constructed trains. Club Secretary Col Farrell told me that the track is longer now than when it was first built. 'The track is about one kilometre long now and goes almost down as far as the Vietnam Veterans Park,' said Col. 'The original track was only just a small loop but by the time it began operating, extras had been added,' he said.
I was told that the mini-trains are normally built by members and are either steam or electrically driven. The little trains have been running around the Bribie Island track since April 1st in 1985 and the club members that I spoke to explained that they really love to see how happy the kids are as they go for a ride on the train. 'They all have big smiles on their faces and they are always looking for someone to wave to,' Phill Grant pointed out. Apparently, the trains pull two carriages and are able to accommodate about twelve passengers on each ride.
The MELSA steering committee(left)
The club operates under a set of guidelines set down by the Australian Association of Light Steamers and these allow for anyone who is seven years or older to become a club member and operate a train under supervision on club days but, when passengers are carried, the driver must be at least fifteen. The MELSA Bribie Island Club currently has twenty-five members and new members are always welcome.
Not all members own a train and I was told that a train is being built at the moment for the club. These mini-train rides on the third Sunday of each month are always a popular attraction and operate from approximately 10 am until early afternoon at MELSA Park on Toorbul Street in Bongaree.
Anyone who would like to find out more about becoming a member of the club is welcome to call Colin Farrell on 0439 822059 or come along on running days.
Other Articles
https://thebribieislander.com.au/history-bribie-island-fascinating-history-historical-society/
https://thebribieislander.com.au/love-for-bribie-tourist-destination/
https://thebribieislander.com.au/elvis-is-on-the-island/