Tags: Tourism, travel, Queensland. Australia. Darwin. Northern Territory
Hi there, my short stories are all about our family, Richard my hubby, Ginger our daughter and myself, going on a 15 month trip of misadventure in a "big rig" around Australia, on a mission to find the place to call home… After five glorious and relaxing weeks in Darwin, we were sad to leave but excited to get back on the road again. Heading South, we returned for a pit stop at Mataranka, once again immerse ourselves in the Warm Springs and the life from the 'We of the Never Never'.
Featured Image(above): Climbing Cawnpore lookout
This was our current night time read, causing our imagination to go walkabout, and leaving us eager to have another good look at Jeannie Gunn's original homestead. The small basic hut without water and electricity was a total contrast to our next destination of Mount Isa, which as a huge mining town was lit up like a Christmas tree all year round. By now our rig was at a bursting point from storing all our rock and shell collections, however, that did not stop us having a 'day out on town,' acquiring a set of colourful bookshelves for Ginger, with no plan of where to put them in the rig…
To be honest we could not wait to leave this part of civilization behind and return to our outback mode. With a couple of options to get you out of town, we decided to take a more scenic route via Boulia to get to Winton. Little did we know that this road was narrower than any drive-way, and at best could be called a single lane road! It also came with its own road rules, namely …that the road trains have right of way and do not need to slow down for anyone or anything.
Wings would have been handy, but nothing was big enough to whizz us out of the way when the huge dust cloud was approaching! Veering into the bushes with Dodge, caravan and all was our only option! Not sure how we made it unscathed, however for the next 300 km we obeyed the rule of large comes first… and fogged in anything smaller than us. Now you are thinking, what mongrels! Honestly, one could not help but bury any bypassers with a dust cloud, because that was all there was… lots of dust. And the dusty Dodge was holding up through all those humps and bumps, however not without a couple of flashing warning lights going off!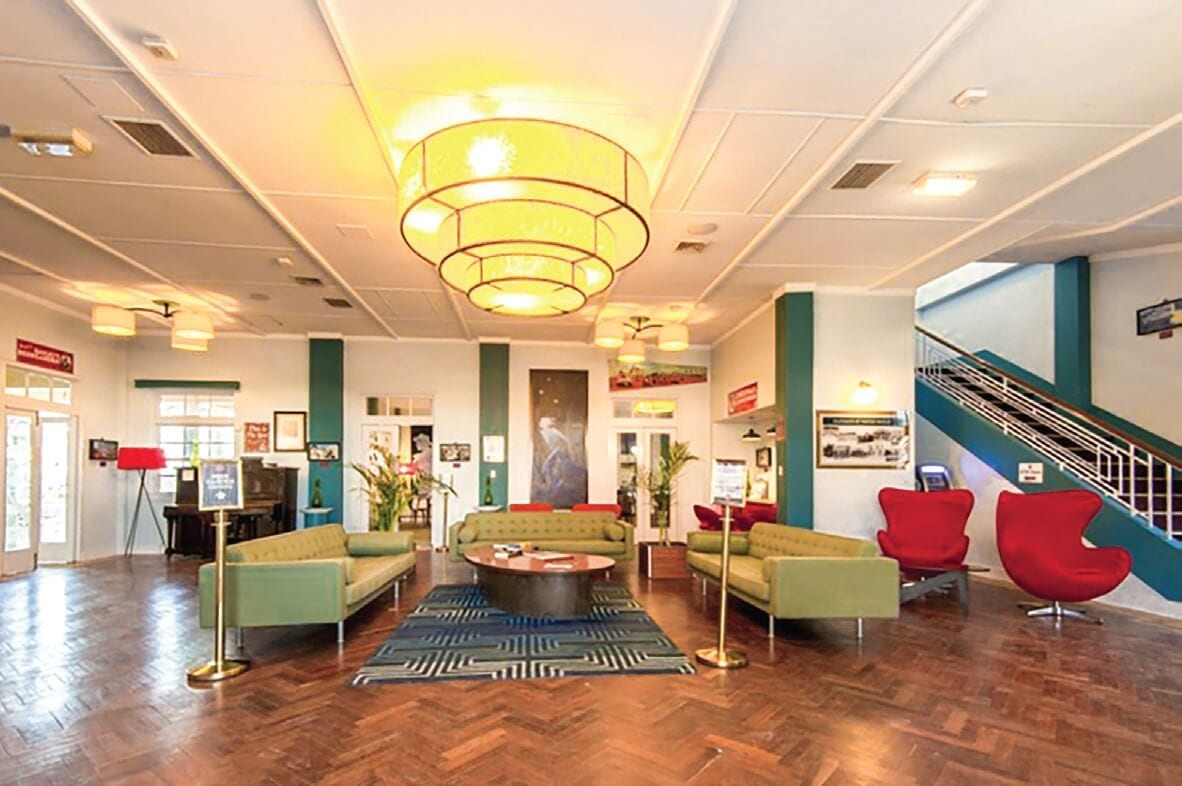 North Gregory Hotel
One constantly urging us to stop immediately as we were meant to have a 'flat tire'! We obediently stopped and investigated multiple times, but could not find the flat tire… Ginger realizing our serious situation of possibly being stranded once again in no-mans land told us to think outside the square and to consider that maybe we left the flat one behind … No wiser, we pushed on with our phantom flat tire and instead jumped on the brakes for a couple of wild camels and an emu crossing the road with its chicks.
With all that excitement we missed our powered caravan site at Boulia and instead ended up right next to the gents toilet door, mistaking those mosquito zappers for the infamous Ming Ming lights during the night. Still, on the way to the Queensland outback town of Winton, we came across a spectacular lookout called Cawnpore, reaching above the flat landscape like a red desert cupcake framed by the deep blue sky.
Ginger in danger
To top it off we found a pub in the middle of nowhere, called the Middleton Hotel, which made history in 1862 when the first white men, John McKinlay and his Burke and Wills search party entered the area. I couldn't resist a Baileys on ice, while studying the old photos and admiring the historic remnants of the 'town', which by now had shrunk to a population of three.
In comparison, Winton was a thriving town with multiple historical pubs, one of them being the North Gregory Hotel where Waltzing Matilda was first publicly performed in 1895. There was even a hairdressing salon called 'Pinky', made famous through the ABC show 'Backroads'. Needless to say, my hair was pink and perfect after my visit! But first, we had to go on a search through the pubs to find the booking officer for the Tattersalls Hotel caravan park.
Baileys on ice at Middleton Hotel
As usual, we had to pace out our spot when helping Bob appeared from the neighbouring motorhome. He and his wife Noelene soon became our Winton travelling buddies, and we decided to all go together in the Dodge to the dinosaur museum. This was especially exciting for Ginger as she could talk to her heart's content with our new friends about her favourite books. Ginger announced that she loves all sort of books except Mummy books because they are sooo boring and send her to sleep…. always talking about how to be happy…
Glassed out days and great fishing
And happy I was when this informative car trip ended, and we arrived at the most impressive Winton dinosaur museum. It was a great combination of in-house information with a bones workshop, where experts and volunteers alike made bones emerge from dirt and rocks. The outdoor activities were just as exciting with a short trip on the shuttle bus to a designated area of dinosaur canyons and boardwalks, which made me feel like I was walking next to those ancient polished giants! By the end of our stay in Winton, I was also in need of some polishing up and was looking for a place to get my eyebrows waxed.
Ginger was surprised and remarked that she thought I wanted to have more hair not less? Leading to a deep and meaningful conversation of how one could implant their 'plentiful eyebrow hair' onto the top of one's head… Before I leave you with that hairy thought… I have to tell you that we have some very exciting news! Can you guess it? Send me an email! Although this is the end of this episode, I hope you can join me in the next edition of 'The Bribie Islander', when we try to strike it rich fossicking for gemstones.
Other Articles