Tags: Lawn Bowls. Bowling. Bribie Island. Sports
SPORT OF AUGUST: BOWLS
BRIBIE ISLAND BOWLS CLUB
Every Saturday of every July and August, the State Pennant bowls competition occurs. Teams in each district play each other, and over time winners move up through the zone finals to the state finals, which are to be held in early November.
This is a great example of how bowls can be a team sport, with many clubs bringing along a cheer squad as they travel each week. Bribie bowls are fielding teams in every division of the men's competition Pennant Divisions One through Five, and our ladies are competing in Division One and Division Four.
We have a proud history of competing in Pennants, with many district and even some state flags hanging from previous wins. Bribie had a fantastic time, winning the day. Everyone was a bit worried for a while after the winds during the week, a little afraid that they were in for some extreme bowls.
DID YOU KNOW?
1.) Lawn bowls are one of the most popular adult games on earth.
It has been said that there are more registered lawn bowlers in Australia than any other sport. It's unclear how this is reflected in other parts of the world, but it's likely close in the UK and is without a doubt growing rapidly elsewhere.
2.) A bowls green is typically 37 – 40 meters square and perfectly flat.
The green is divided into rinks, which are not less than 5.5 meters or more than 5.8 meters wide, enabling several games to be played at the same time. 3.) Lawn Bowls is played from a mat which is 600mm long and 360mm wide. One foot must be on the mat when a player delivers the bowl.
4.) There are currently in excess of 250,000 registered lawn bowls members in Australia. The increase in popularity of social bowls has seen the number of participants increase to 500,000+ nationwide.
5.) Bowls is a game that involves an offensive and defensive strategy to play. There's also the added challenge that the jack is movable and can be displaced anywhere on the rink by a delivered bowl.
The photos featured are the Bribie Lawn Bowls Division 5 men playing against Glass House Mountains.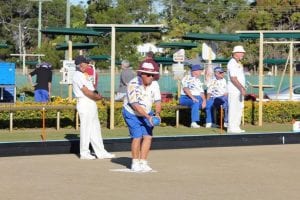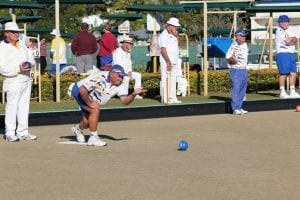 Other Articles
https://thebribieislander.com.au/local-events-medieval-festival/
https://thebribieislander.com.au/the-sensory-movie-day-group-aspergers-autism/