Tags: Motorcycle enthusiasts. Cancer fundraising. Cancer awareness. Motorcycling club Queensland. Cancer Council.
RIDERS WILL REV UP IN RED'S MEMORY FOR CANCER CAUSE
Gary and Helen Blake and their friends from Gronks Social Riders Club are getting ready to rev up for a good cause! The motorbike enthusiasts are hosting their second annual memorial Ride For Red on May 5-6 in support of Cancer Council Queensland. Mr. Blake, or "Blakey" as he's known, called on fellow riders to save the date and start their engines for the trip around the Brisbane Valley, departing from Wamuran Shopping Centre and stopping at Esk, Coominya Hotel and finally Linville Hotel.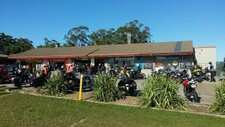 "We held his event for the first time last year after a good mate, Red, passed away from brain cancer," he said. "We want to continue to hold this event in Red's memory and to fundraise for cancer research that may help save someone else's life in the future. "Last year we had 75 people join in on the fun to help us raise funds, and that was just through word of mouth, so this year through promoting it a little more we hope to have 100 people and raise even more money." In 2017 there were 27 motorcycles involved in the ride, with six cars following the riders, and other friends meeting at the Linville Hotel later on.
Motorbikes outside the Linville Hotel for the 2017 Ride For Red(left)
As well as a chance to go on a scenic cruise for a good cause, Blakey said there's plenty of prizes up for grabs for those who get involved, with raffles and auctions. "We rely on donations for the prizes and the support has been incredible, which I see that as a testament to the kind of person Red was; he always wanted to help people out, even when he was sick," he said. "Red loved the Broncos, so we have a signed Broncos jersey that we are currently selling raffle tickets for that will be drawn on the night, plus we have a football made up that we will auction off; the ball is in Broncos colours and has 'Ride For Red' printed on it, and it's been autographed by all the Broncos players." Gronks Social Riders Club was formed by a few old mates who used to ride together.
Blakey lives in Bribie Island, while other members are located all over, from Mount Morgan to Hervey Bay to Mundubbera. "We formed it after Red passed away and it has no committee – it's just for fun," Blakey said. "We hope riders from all over will join us for the Ride For Red." There will be free overnight camping across from Linville Hotel on the Saturday night, plus a barbecue dinner available for $15 per person and breakfast for $10 per person. For more information about Ride For Red, call Blakey on 0407 570 651.
Ride For Red supports Cancer Council's Do It For Cancer campaign, which encourages people to fundraise in any way that they like. Cancer Council Queensland CEO Ms. Chris McMillan encouraged the local community to support the Gronks Social Riders Club's fundraising efforts. "One in two Queenslanders will be diagnosed with cancer in their lifetime and we rely on the generosity of fundraisers and donors to help us continue our work to support those affected," Ms. McMillan said.
Blakey presenting the owners of the Linville Hotel, Bernie and Deb, with an appreciation certificate from CCQ last year.
"This event is a great opportunity for motorcycle riders to come together in support of the cause – and we are thankful to Blakey, Helen and their fellow club members for doing what they can to make a difference. "Funds raised will be invested into lifesaving cancer research, prevention, and support services." Queenslanders can race, work, sell, shave, quit, gift – or do anything.
To register for 'Do It For Cancer', visit www.doitforcancer. com.au or call 1300 65 65 85. Cancer Council Queensland is an independent, community-based charity, the achievements of which are made possible by the generosity of Queenslanders. More information about Cancer Council Queensland is available via www.cancerqld.org.au or 13 11 20.
Other Articles
https://thebribieislander.com.au/the-sensory-movie-day-group-aspergers-autism/
https://thebribieislander.com.au/museum-and-art-gallery-queensland/
https://thebribieislander.com.au/local-events-medieval-festival/