In what will be a giant community welcome, the Bribie Island Community Arts Centre at Banksia Beach is celebrating its 30th Anniversary by inviting everyone to visit its spaces and studios in the week December 8 – 15 and join or watch wonderful and varied art and craft.
The Centre will feature a spree of FREE painting, printing, pottery, leadlight, glasswork, sewing, quilting, mosaic, drawing, recycling art, macrame, cardmaking and scrapbooking, resin art pouring, writing and publishing experiences for all on Bribie and surrounding region to discover and learn new experiences in creativity. Come along any and every day from 9 am – 4 pm and enjoy the fun and satisfaction of the amazing arts and crafts shared, learnt and enjoyed across the age groups, at the Arts Centre.
Experienced and friendly artists and demonstrators will share their skills and answer any questions about their medium. Naturally, the Centre's Gift Shop and Galleries will be open for the duration and the cafe will be open daily between 10 am and 2 pm, so make a date to meet with friends for a coffee or lunch on the breezy deck to round off your experience. The celebrations salute the amazing foresight of the Centre's founders, who opened the Centre at 191 Sunderland Drive, on December 11, 1988.
It remains the largest Centre of its kind in the country and according to its many interstate visitors and admirers throughout the year. Many claim it's the most impressive in its scope and breadth. Venue Manager, Julie Thomson, said BICAS management wanted the occasion of the Art Centre's 30th Anniversary to celebrate all that the Centre offers to and enriches the community with – art, creativity, friendship, stimulus, encouragement, learning, fun, and financial return on art created.
She said also that many people living alone on Bribie and nearby found solace and a sense of purpose in attending or volunteering at the Centre The week will kick off with a special Anniversary Make It Bake It Christmas market on Saturday, December 8. Here's a chance to buy that special gift from any of the wonderful array of stalls selling handmade items, as well as enjoy live music, children's art activity and breakfast or lunch from the cafe's delicious menu.
PLANNING…
…for the 30th Anniversary week has taken place over the past months to include a great array of art experiences for BICAS members, friends, and the wider Bribie and region community, such as open studio visits, art and craft demonstrations, an artist-in-residence, Memory Wall, Treasure Hunt, Tree planting, time capsule burying. In the magnificent Matthew Flinders Gallery, there will be a week-long exhibition of BICAS history in art and memorabilia, works from Life Members of BICAS, former winners of the esteemed annual Matthew Flinders Art Prize and dedication of a tribute wall to its founder, the late artist, Margaret Guthrie, holding several of her works donated and lent for the occasion. There will also be a couple of musical events in the Gallery on the programme.
Best-selling Brisbane author Nick Earls will team with Chanel Lucas from Women in Docs to present a special literary/musical event on Sunday evening, December 9, at 6 pm. And popular local singing Quintet Two Plus Three will feature a rollicking concert of musical and light operatics favourites on Sunday, December 16 at 3 pm. (More details on how to book for these on page 34) The 30th Anniversary week will culminate in a gala night on Saturday, December 15. A full programme of events is featured opposite. The Bribie Woodcrafters and Gem & Fossicking Club, who share the precinct with the Centre, will also be open for demonstrations and information during this week
Amazing People
Here are just a few of the amazing people you can see and meet at the Bribie Community Arts Centre during their 30th Anniversary Celebrations Week. The winner of the inaugural Matthew Flinders Art Prize, at the Bribie Island Community Arts Centre in 1999, John McVeigh Brown, will be a special guest at the 30th Anniversary week of activities. John will be giving a talk and demonstration in studio on Wednesday, December 12 at 10 am in Studio 2. Dale Marsh will be best know to Bribie Islanders and visitors for his iconic painting of children jumping off the island sandhills, reproduced on the Benabrow Ave Bellara billboard on the right as you leave the bridge.
Dale is an acclaimed Australian impressionist painter and one of the early supporters and founders of the Bribie Island Community Arts Centre. Several of his beautiful paintings are housed there in a room that carries his name. Dale will be giving a floor talk in the Matthew Flinders Gallery on Saturday, December 15 at 10 am. Award-winning indigenous artist Hazel Cowburn holds the Bribie Community Arts Centre in a special place in her heart as it was the venue for her first exhibition.
Hazel has been exhibited in the Gallery several times and also Artist of the Month. Meet her over a floor talk with her art in the Matthew Flinders Gallery during the 30th Anniversary week. Author James Lergessner has Bribie grit in his blood, having spent much of his life from boyhood on the island. He has a passion for history and especially Moreton Bay and Bribie yesteryear and he tells wonderful stories of the places and people who coloured their history. James will be giving a rousing and wonderful talk on the characters of Bribie's past at the Centre Boardroom on Wednesday, December 12 at 2 pm.
James is also conducting a writing and publishing workshop for those who have a ken for the written word, love writing and wish to learn some navigation skills through the publishing world, on Friday, December 14 at 1 pm. Book for either of these at the Centre on 3408 9288. Renowned Sunshine Coast potter and tutor Jackie Gasson will be giving demonstrations of her amazing talent in the potters studio on Tuesday, December 11 at 1 pm.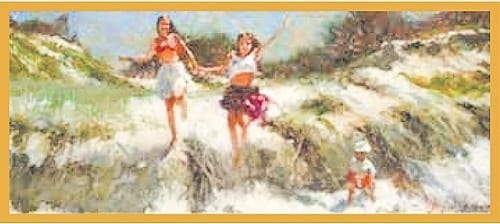 Programme