Tags: Fishing spots and tide times. Bribie Island. Moreton Bay. Brisbane. Redcliffe. Deception Bay
Well, our fishermen have been making the most of our great weather over the last week with some great catches to be had. We have seen a lot of Bream in Ningi Creek and the surrounding areas with some good sizes caught at Red Beach, Normans Gutter, Bongaree Jetty, Bellara, Turners Camp, Banksia Canals they are loving the Live Bloodworms. The Flathead is moving about the passage with the best spots being Ningi Creek, Avon Wrecks, Gallagher's and Poverty Creek with some good size being caught in Elimbah Creek. We have seen some Snapper about in the last week.
Cobia caught at Cape Moreton 1.4mts long weighing in at well over 35kg and caught on soft plastics by Craig
The great spots are Bellara, Bongaree, The Ripples, Sandstone Point and Cape Moreton they seem to be biting well on the Pilchards than the Cuttlefish. Seeing plenty of Whiting in the gutters on the surfside at 1st, 2nd, 3rd, 4th Lagoon and 8th Ave carpark and some good size being caught in the passage at several spots Avon Wrecks, Red Beach, Turners Camp, Surfside the best bait is Live Bloodworms and preserved Beach worms. A few nice Sweet Lip caught just off the Tangalooma Wrecks. The Ocean beach campsites have seen some good size Mackerel caught and as well as The Bird Cage.
Sweet Lip caught at Cape Moreton by Bruce
With the easterly winds, we are seeing a lot of stingers along the ocean side so make sure you are equipped for the conditions. One of our regular anglers caught a nice size Cobia 1.4m weighing 25kg at Cape Moreton took some time to land and a bit of a fight but nice to have the 25kg in hand only using soft plastics. We have also seen a lot of Mud Crabs being caught in and around Ningi Creek, Toorbul, Donnybrook and the Banksia Beach Canals but please remember to check your own pots and not anyone else's, as several of our angler's crab pots have been stolen.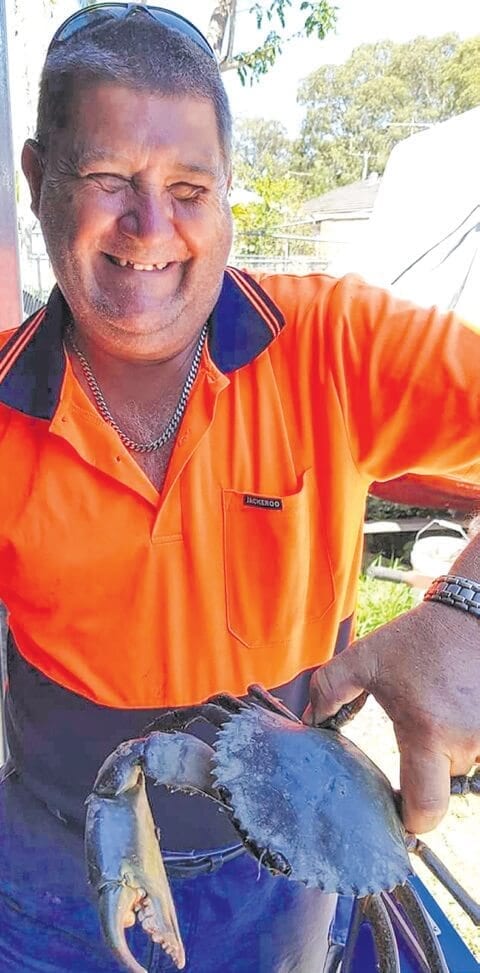 Mud crabs caught in Ningi Creek by Michael Bierton
You can grab a feed of Sand Crabs at Lime Pocket and along the sandy edges of Bongaree. It seems we have a lot of prawns and squid being caught for live bait about the passage. As well as our fish being caught throughout the passage and Surfside, we still need to be aware of the Grey Nurse shark that was approximately 3ft long caught in Ningi Creek last week, which was released unharmed and placed back With our school holidays coming to an end it is a good time to get out amongst the fish being caught around the Pumicestone passage and on the surf side. In the water, just remember to take note of where we swim and the conditions around us.
Tide Times
Click here to see Bribie Island Tide Times