A CHANCE TO CATCH UP
There is quite a lot of evidence which indicates the presence of a number of local residents who have previously spent some years in Papua New Guinea and with this in mind, one ex-pat from the Milne Bay Province is calling for anyone who was in that area in the middle of the last century to contact her in preparation for the next reunion which will be held on September 12th in 2020.
Featured Image(above): Reunion founder Mike Walke and new organiser Ethel Hayden took the time to tell me about the event over lunch at The Coffee Club
The first of these biennial reunions was organised by ex-pat Mike Walke and held in Sydney at the Kirribilly RSL in 1997. Mike told me that his family has a very long connection with PNG, especially Samarai Island, and Alotau. 'My grandfather was a shipwright on Samarai Island and he was kept busy repairing the local wooden boats whenever they ran into one of the reefs,' said Mike. 'My father went up there on a two-year assignment with the Bank of New South Wales and, after the two years were up, he liked the place so much that he quit the bank and stayed there,' he explained.
Over the years since the first reunion, the venues have been in various places and although Mike continued on as the organiser for some time, he has passed the job on to others. As someone who was born in PNG and has a long association with Milne Bay Province, Ethel Hayden, nee Morley, has taken on the role of organiser of the 2020 reunion and believes that there are people in our community who would have previously lived in the Samarai Island and Alotau areas or know of someone who has.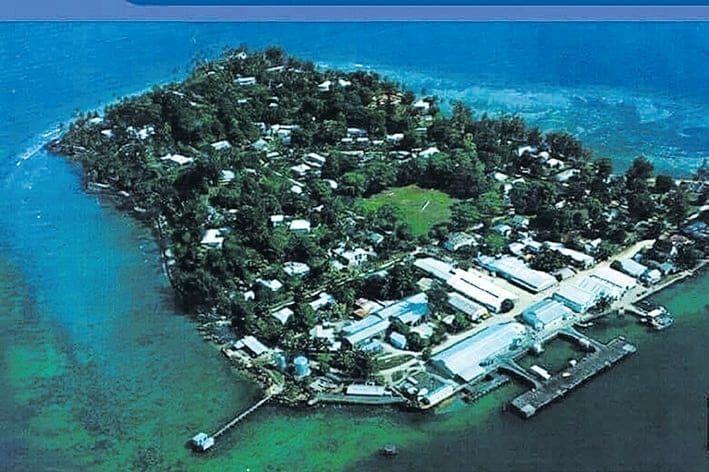 A 1950's aerial view of the beautiful Samarai Island
'I am hoping to hear from ex-pats who would like to attend the next reunion and, even though it is almost two years until the event which will have the theme, "A timeline of precious memories," I am starting early to ensure that everything goes smoothly,' Ethel told me. From what both Ethel and Mike have said, the previous reunions have been enjoyed by all who took the time to attend and catch up with others who know the area.
Anyone who would like more information about the get together is welcome to either send Ethel an email at [email protected] or call her on 0401 621 991 for all the details.
Other Articles