Tags: Mathew Flinders Art Gallery. Bribie Island. Art Exhibition. Events
THE MINI'S ARE HERE
In 2016, 2017 and again this year, the Mathew Flinders Art Gallery has been host to the Mini Masterpieces exhibition which has become well known as an opportunity for artists of all ages to demonstrate their talent within a small area.
The Mini's are created in a space that is only fifteen centimetres square or cubed and exhibition curator Kate Goulding has described it as a wonderful opportunity for artists to try their hand at smaller scale work. She also said that it has been pleasing to see the increase in the number of children and younger artists who have entered their works.
Featured Image(above): Artist and volunteer Debra Mieth taking a well-earned rest from her decorating work
The 2018 Mini Masterpieces exhibition will be on display in the gallery from May 28th until June 9th and when all exhibits will be auctioned with all proceeds going towards gallery improvements. This has been a very popular way for art lovers to grab a bargain (or two) in previous years and I can honestly say that there are some really outstanding works of art among the painting and drawings along with the textile and glass art so this is going to be an auction that should not be missed.
What's that? You can't get there but you really want the chance to bid. Well, it just so happens that you can have that chance by placing a silent bid at the Bribie Island Community Arts Centre any day after the exhibition opens. Whilst we all know that an art centre and the gallery is a place where a large variety of colours and works of art can be found within when you pay a visit to this art centre, you will find that the array of colours extend outdoors.
A great display of talent in a small area
This job of giving the outdoor furniture a really colourful appearance has been undertaken by local artist, centre volunteer and Artist of the Month facilitator Debra Mieth who has spent many hours brightening up all the tables and chairs that are in the deck and outdoor area.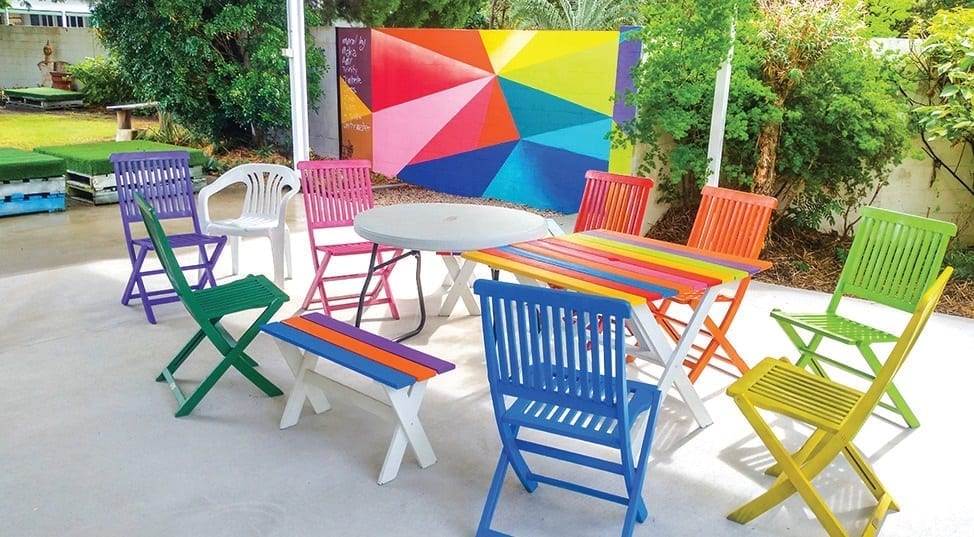 A bright new look for the outdoor area
The Bribie Island Community Arts Centre can be found on Sunderland Drive at Banksia Beach and is open each day except Monday from 10 am.
Auctioneer Greg Spence will put all of the 93 Mini Masterpieces under the hammer on June 9th
For information about the exhibitions at the Mathew Flinders Art Gallery or about any of the other activities that take place at the centre, either drop in during opening hours or give them a call on 3408 9288.
Other Articles
https://thebribieislander.com.au/mini-bribie-islander-glossy-magazine-may-june-issue-17/